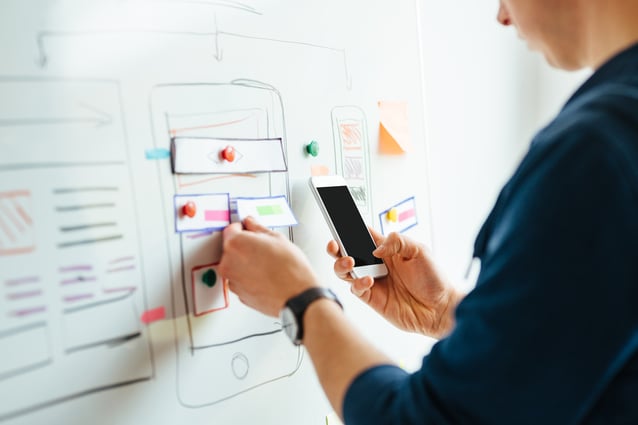 Programmers are a diverse bunch, ranging from individuals who taught themselves a single useful coding language because it was helpful as an additional skill to extensively-educated programmers who can seamlessly work in many different programming languages and contexts. In general, however, programmers who want more upward mobility and to stand out among other candidates can add new languages and platforms to their repertoire as a way to grow.
One of the most impressive places to increase your skills is learning app development for the Apple App Store. The coursework needed to learn iOS Mobile Design and Development is surprisingly quick to learn and has many different applications. In a world where everyone from insurance companies to restaurants is trying to get their app designed to command more attention and commitment from their customers, app design and development are a highly applicable set of skills. You learn it through a two-part non-credit course offered at Portland Community College. If you've never considered learning how to code for iOS or build apps for iPhone, consider these applications of this skillset.
App Development as an Additional Asset for Programmers
Established programmers will find learning the Apple Curriculum for Swift Explorations used at Portland Community College to be an intuitive, easy-to-learn curriculum that prepares you for a credential through CERTprep that you can share with employers. If you've found that you've hit a creative or technical wall in a current role as a developer or web designer, adding this certification can be a great way to showcase to your team leader or manager that you're ready to take on new tasks.
Growing in one's current career path often has to do with practicing managerial oversight, which may mean needing to have a working knowledge of a wider variety of programming or technical expertise. Adding another programming and design skill to your resume can signal to your supervisors that you are interested in positioning yourself well for advancement and for new projects that keep your overall workplace experience a fresh one.
Stand Out Even When Shifting Your Career
App development is so helpful that you may pursue a new job in a different or adjacent industry with these skills. If you want to move into a more design-centric role and show some of your sample designs from your iOS mobile design course, this may make even a more development-centric background appealing to the company.
Some small companies that don't have a full-time person working on their app prefer to outsource the initial development and fix it only when it breaks or needs significant bug fixes. If you are applying to a company that could use part-time help with their app in addition to the listed job description. They may be willing to modify the job to utilize your valuable app development and design skills. Including the certification when applying may open doors and, at any rate, won't close them!
Use App Development as a Hobby or Day-Job Expansion
Developing and designing mobile apps has become a valuable skill, even independently from pursuing work. If you work in a passion-project kind of career and know that your company cannot afford an app developer yet, you can set yourself apart by developing it yourself. Working on an app prototype or full app on your own to contribute to a non-profit organization might be a fantastic way to contribute needed skills.
If you have a hobby you love and know people in that community would appreciate a particular app you've never seen in existence. You can use your knowledge of app development and design to be the one to create what fellow hobbyists need. Who knows? If you put the app up on the App Store for sale, you might even make money.
Use iOS Skills to Figure Out Your Next Step
For some, learning to code iOS apps will be a big challenge, especially if you have no previous coding experience. Others will find it very intuitive, given their extensive background in web design or computer programming. Either way, mastering the fundamentals in a fast, clear, and affordable course series is a great way to add to your skills and achieve your next goals.
Whether you want to impress those at your current job, leverage new skills into a new position, pursue your favorite hobbies, or help your favorite organizations, app development can open doors for you.
If you want to learn more about how Portland Community College can help you grow as a passionate person about coding, development, and design, check out all that PCC has to offer. Sign up for any of the various Computer Information Systems courses or other related programs at PCC today.