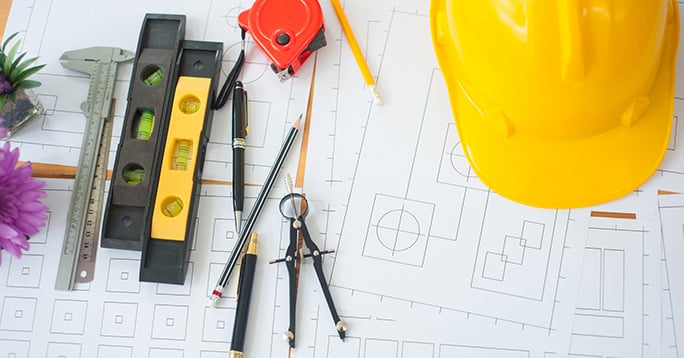 The world of skilled trades and construction has changed a lot in some aspects, with new materials and techniques that can help buildings, electrical systems, and air conditioning systems run more smoothly. At the same time, many of the techniques that are foundational to everything from plumbing to machining have remained consistent, meaning that there is a robust body of knowledge on these topics that can be taught through online coursework.
Portland Community College's remote professional development training offers completely-online courses that meld the traditional and the contemporary approaches to skilled trades and construction. Through these courses, you can understand the theory and science that undergird these trades-based jobs. Both construction and trades experience frequent labor shortages, so developing your expertise through remote training puts you in an excellent position to gain employment in rapidly growing fields. With many commercial and residential building owners eager to take advantage of new technologies that will help them spend less on utilities, retrofitting and updating buildings is a major component of the trades and construction industries these days. You also will be able to put your coursework to use in new building construction.
Leadership in Energy and Environmental Design (LEED)
The U.S. Green Building Council developed the standards for various levels of Leadership in Energy and Environmental Design, or LEED, certification. These certifications are standards applied to buildings, giving them a distinction as buildings that have managed their supply chains and used less-wasteful tactics throughout the process of creating the building in order to have a lighter environmental impact. After the buildings are created, they sustain their positive impact through participation in efficient water management, sustainable energy, and excellent insulation that reduces wasted heating and cooling energy.
Our LEED Green Associate course helps you understand the information that is expected of Tier 1 Green Associates who work as LEED consultants to help construction and architectural teams to meet and exceed the requirements for LEED Certified, LEED Silver, LEED Gold, and LEED Platinum. Local and natural materials are both key components of LEED course offerings.
In this course, you'll begin with the broad view of what sustainability is and why it is important to modern buildings. Then you'll talk about integrative design, understanding how getting all key stakeholders in a building's design and construction involved early on so that the decisions of the architects, for example, make sense to the engineers and contractors down the line. You'll then learn about how LEED was developed, how it has changed over the years, and a comprehensive overview of its components.
You'll delve into the details of site selection and how transportation and water management will factor into the use of a particular site for a LEED-certifiable project. You'll study how energy systems and materials in the project impact the potential for LEED certification as well as the very important budget pressures that most building projects experience. You'll spend time on practical issues, like meeting local codes for buildings in addition to the LEED certification requirements, and you'll prepare for the credentialing exam that is included as part of your LEED course with Portland Community College.
The pursuit of LEED certification is an upfront cost for building projects, but it has been proven to reduce the building's operating costs, so companies who want to invest in sustainability and improve their cash flow down the road are aiming for various levels of LEED training and education. Construction teams, contractors, and architects alike need LEED-knowledgeable staff in order to meet these standards for their clients, so it is a growth industry where your coursework will be directly relevant to a job.
Try a Construction and Trades Course with Online Remote Training
Whether you're already learning on-the-job through a construction or trades position, or interested in breaking into a new part of the industry, remote classes are flexible. You can finish your coursework on your own time, completing projects when you aren't busy with your work. Courses range from 3 months long to 18 months long, with varying amounts of coursework hours that are listed with each course so that you know what kind of time commitment is involved.
Finding your next job in construction or trades can lead to a long, fulfilling, and stable career with room for advancement and even for entrepreneurship if you, down the road, open your own shop or business offering a particular service. By investing in yourself through online remote courses, you position yourself to have both the fundamentals of the industry of your choice and the up-to-date information you need to edge out the competition.