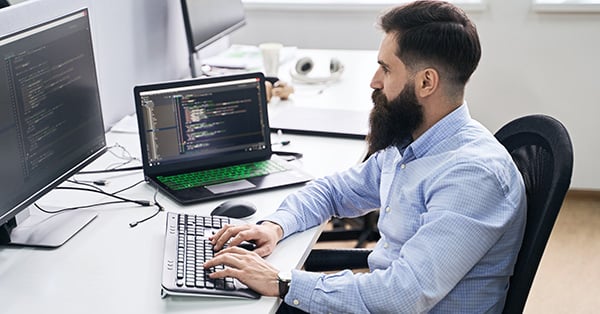 The world that runs our social media, business applications, and other software products is a complex one that has created some of the most prevalent and well-compensated jobs. Information Technology (IT) offers those who are willing to delve into the technical underpinnings of computers an opportunity to take good care of the systems under their responsibility. Getting trained for information technology careers is easier than you might assume; with Portland Community College, you can train for these careers using the remote professional development training for IT coursework. Offering a wide variety of coursework, this program makes it possible to gain prowess in a particular software, perhaps the one missing gap in your preexisting IT knowledge, or to get started and begin carving out a niche for yourself in this growing industry.
Information Technology is a field that has consistent growth, often offers unprecedented flexibility, and pays competitively. Getting started or looking to level up in your IT career? Do it with us at online remote training from Portland Community College!
IT Foundations
IT offers a wide variety of certifications and software systems to learn, and getting started can be a little daunting at first. However, with our IT Foundations course, you'll be introduced to DevOps, ITIL, and SIAM, the three major systems for configuring and excelling in IT services. While DevOps, ITIL, and SIAM all approach the need for excellent information technology maintenance and improvement, they each approach it differently. In this 12-month, online-only course in IT Foundations, you'll learn the core components of all three of these foundational approaches, preparing you for a variety of IT services configurations you'll find in future workplaces.
During the segment of the course that is on ITIL 4, you'll talk about the key concepts of service management and then dive into the practices that undergird the ITIL principles. You'll have a section to prepare for the exam, which you'll be able to take if that is part of your goals. You'll learn about how DevOps relies on CALMS: culture, automation, lean, measurement, and sharing, as well as common DevOps roles you may find yourself playing. Finally, you'll learn about the service integration and management system (SIAM), using the standard roadmap as well as the roles, practices, and processes typically associated with this approach to information technology.
By working with all three systems in succession, you'll not only be familiar with different approaches that could be in practice in your next IT job, but you'll also be in a better position to see which ones are better fits for your skills and preferences. It's a great way to deepen already existing knowledge of IT or get started by jumping in feet-first.
EXIN Cloud Computing
Cloud computing, or the use of remote servers instead of on-site servers or personal computer hard drives, has become a more and more popular way to maintain secure, powerful, and fast systems for information infrastructure. With jobs in this space growing despite it being a relatively new development, an in-depth understanding of cloud computing positions you favorably in the job market, ready to mobilize this exciting technology or work with it in systems that are already up and running in your new company.
The EXIN Cloud Computing course takes you through the core principles as well as the deployment and service models of cloud computing, helping you understand the wider problems that cloud computing attempts to solve. You'll learn the core architectures, drivers and limitations, as well as the role of virtualization and managed services in the cloud computing world. You'll then get into the nitty-gritty of implementing, managing, and using cloud-based systems, as well as how to maintain security and compliance standards that may commonly be needed for cloud-based systems. Finally, you'll take a business approach to advocate for a cloud computing solution, including checking the costs and possible savings associated with such a system and ongoing evaluation of the success of such a system.
With jobs getting more popular in the cloud computing space, you'll be in a position to both leverage this information in a variety of business roles that interact with or include some IT responsibilities, as well as taking on a more dedicated IT cloud computing position. After this online-only course from Portland Community College, you'll be well-positioned to discuss the world of cloud computing and make it work for your current or future employer.
As you can see, online courses allow IT professionals to dive deeper into a subject they are already passionate about with ample opportunities to get into the field at the entry level. Throughout the courses, you'll work with experienced instructors who know the IT world well, helping them to guide you toward the elements of information technology that best match your skills. Ready to get started on an IT course? Sign up today!