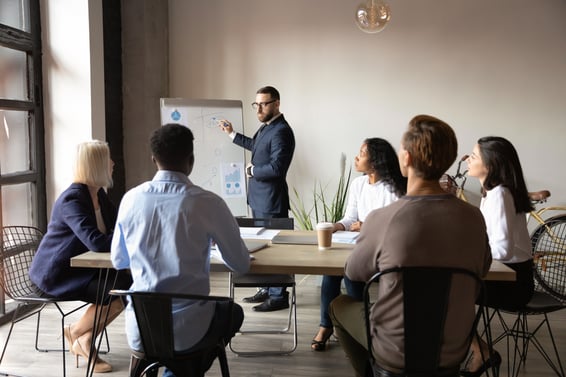 When businesses invest in training for their personnel, they experience a range of valuable outcomes. First, the fundamental nuts-and-bolts benefits of whatever the training is, is moving employees to a new level of competence and knowledge.
Employees also typically appreciate the presence of valuable training opportunities, as it moves them forward in their careers and poises them for advancement. Finally, employees who share a common training experience also foster connections that they'd lack without the training; inter-office communication can often improve, as can team rapport and collaboration. 
If your team doesn't have a training division, it can be daunting to imagine creating training that is both attuned to what you need and doesn't take up resources required you could use elsewhere. A great compromise that promotes high-quality training without rerouting your on-site team is to find custom training solutions for businesses through Portland Community College.
If you're trying to figure out how to outsource training for my business, you've come to the right place. Training is more needed now than ever, and the benefits you can reap are huge.
What Kinds of Training Programs Can Benefit Your Staff?
Well-trained employees become better team members in a host of ways. It develops their confidence to problem-solve and troubleshoot, leading to higher productivity, as well as greater autonomy. That, in turn, provides managers more time to handle their tasks and still have time for other big-picture choices and decisions. If you find that an individual worker is doing such a good job that they have more time than they need for their responsibilities, the best way to utilize them is to get them cross-trained and have them help in a function where there isn't enough staffing right now.
While cross-training and changing job duties must be done with care, since some team members may have preferences of what work they do, employees generally like to see their jobs evolve, including opportunities to take on new and better responsibilities. You'd be surprised how valuable it can be to offer modest pay bumps to high performers for training and handling new tasks rather than hiring entirely new people for the team.
Common Staff Trainings
While there is often technical training needed to qualify to do specific job tasks, nearly every company can benefit from courses like the following:
Management and leadership approaches. Being an entry-level or even mid-level individual contributor rarely prepares someone fully to manage other employees and get the best work from them. Training team members in management can help you reduce turnover and keep highly experienced team members working for you, bringing valuable context while also managing effectively.
Work from home strategies and remote collaboration tips. As teams become more distributed, a specific place to discuss concerns and challenges of working remotely can be valuable for your team. You can demonstrate your investment in their success in remote-work contexts, that they aren't on an island on their own with little oversight. It opens team members to using new technology for collaboration or setting best practices for things like video calls and online document management to give everyone the tools and input they need to move forward.
A combination program that helps managers who are managing remote teams. This training would help those on a leadership track but at a loss for how to help their teams achieve their highest potential without in-person check-ins. These courses help managers to feel ready to manage remotely.
Making Training Your Own: The Benefits of Custom Training
Portland Community College's Custom Professional Development Training team can work with you to tailor the training topics to your needs. That way, you can cover topics like remote-work guidance training with a renewed focus on inclusive practices in the workplace or hiring. Designing collaboratively with our trainers helps you focus on what matters most in your company context. You can customize sessions to the workers who will attend, with a management focus in one session, for instance, and a separate session for individual contributors.
You can even use the training as a springboard for finding new leadership potential among your employees identifying management candidates. There's so much to explore!
Portland Community College Helps You Outsource for High-Quality Staff Trainings
Here at PCC, we're developing relevant coursework in ways that engage our students all the time. It only makes sense that we've put together effective best practices for making training stick in participants' minds. These practices provide companies the benefits of well-designed training programs without devoting their employees to the task of mastering curriculum design.
Let our expertise be your gain by bringing us in for custom training solutions for businesses of all sizes and types. You and your employees can grow and adapt to the changing times with the benefits of professional development!