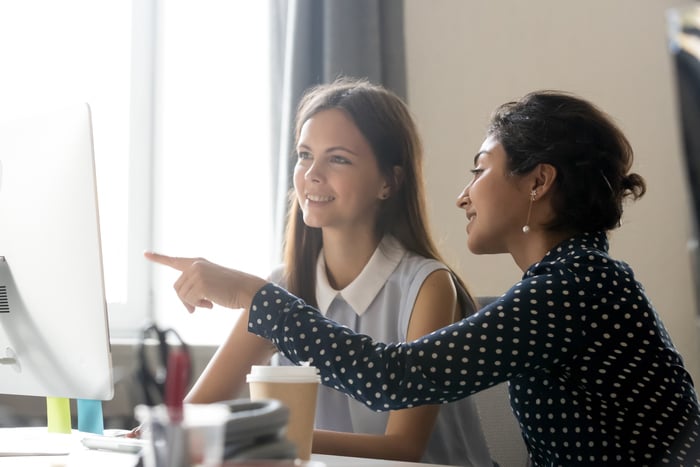 In today's business world, the right leadership skills are essential to help people achieve their best potential. Leaders have many different ways they can lead their teams. Advising and mentoring are both highly effective and positive leadership styles, but sometimes coaching leadership is the best way to approach leading employees.
Just like a coach inspires players on the field to do their best, a leader in business can use the same strategies to encourage employees to aspire to greatness. The coaching leadership style treats employees like a team, interacting with them and gaining insight from them rather than simply delegating tasks. A coach encourages employees to work independently, while providing support and encouragement to excel. Portland Community College offers a Coaching course that will teach leaders in business how to effectively embrace coaching style leadership.
What Is Coaching Style Leadership?
When it comes to motivating and inspiring employees, leaders can benefit from learning coaching skills. Coaching style leadership differs from traditional command-and-control styles of leadership. In a coaching format, leaders engage in dialogue with employees, gaining insight into their perspectives and ways to handle the work. The leader has the right to make the final decisions, but encourages discourse and benefits from this communication.
Coaching style leaders also guide their employees, providing them with inspiration and encouragement as they go about their work. They learn the strengths and weaknesses of their team members, then encourage them to work in areas that capitalize on their strengths while downplaying their weaknesses.
In this leadership style, the coach uses conversations with individual employees to lead them to better outcomes. As the coach listens, they will often interrupt and help the employee think of a new way to approach a problem. However, because they are having ongoing communication, they are able to learn from their employees as they guide their employees at the same time.
When Does Coaching Leadership Work Best?
Because the coaching leadership style encourages employees to work to their own strengths, it works quite well in an environment where employees work independently. Employees know they have the freedom to work to their own competencies, but also know they have the support of their leader when it is needed. Independent teams often benefit the most from this leadership style.
How Does Coaching Leadership Benefit Employees and Their Companies?
When leaders embrace coaching, their employees are able to excel in the areas where they have natural strengths. This creates a positive environment in the workplace, and leads to highly motivated employees. This motivation and positive way of thinking makes the company more successful, because employees are able to work to their best potential.

If you are interested in learning coaching leadership and how it relates to various coaching styles, consider PCC's Coaching course. It will compare coaching leadership to advising and mentoring leadership styles, and help you understand when your employees would benefit from each style. Sign up for the Coaching course today, and embrace the benefits of coaching in your own business setting.