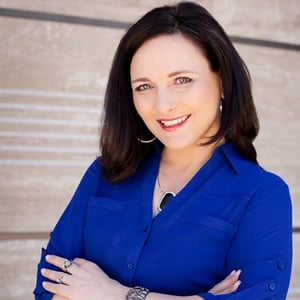 Michelle Brubaker's experience at PCC offers a common story. It starts out something like this: she's passionate about what she does, she's been with PCC for over two decades, and she's constantly keeping up to date with industry trends to bring timely relevance to the topics she instructs. She's also an author of several books about marketing and a consultant and public speaker. We connected with Michelle to learn a little more about her experience, vision and what she brings to the classroom.
What do you like about working at PCC?
I like the unique diversity of students and companies I've enjoyed of working with throughout the Portland Metro area with PCC's Professional Development and Training program.
How did you become an expert in this subject?
1) Teaching for over 22 years for five Northwest community colleges. 2) Being a business owner for over a decade and providing stellar customer service.
What sources of information do you use to stay current?
I love to read books on business success, study business biographies, and enjoy continuing education in personal development and productivity.
What trends will have the biggest impact on the discipline/industry during the next year?
The landscape of the Internet and rapidly advancing technology have a big impact on the customer service industry, including its delivery within our continually changing virtual/mobile environment, and extending to global connections and its effect on every day personal interactions. Additionally, changing approaches to customer service such as "customer-centric" methodologies have an impact on the industry. Whereby an organization designs the desired "experience" for a customer through focused metrics to deliver a customer first approach.
What is it about the subject that compels you to remain interested?
I love the field of personal development and because there are always new philosophies and technologies you can continually learn more.
How might someone expand their definition of customers as a result of your customer service class?
Customer service is categorized as more than just internal and external customers. There are multiple types of connection opportunities with a current or prospective client, including; virtual, mobile or live interactions within a cycle of communication.
How do strong customer service skills improve competitiveness for an individual or business?
Sharpening the skill of customer service is one of the major differentiators that set any business apart from others. On an individual level, providing effective customer service simultaneously rises the effectiveness of the employee as well as the organization.
What associated skills would help someone advance in this field?
Interpersonal skills go together with customer service. The higher the level of interpersonal skills (communication, listening, understanding body language, tone, problem solving, etc.) the more effective one will be in providing the excellent customer service.
Share something interesting that you have learned from your students.
I've learned so much from my students! My approach in class sessions is a very open environment. We use scenarios and even discuss students' situations to help support and provide them tools so that they can to go back to the workplace and implement what they just learned.