March 20, 2019 is National SBDC Day!
The 62 state and regional Small Business Development Center networks provide free one-on-one consulting to small businesses at nearly 1,000 locations throughout the nation. In 2019:
A new business is opened by an SBDC client every 35.7 minutes
A new job is created in the U.S. by an SBDC client every 5.6 minutes
$100,000 in new sales are generated by SBDC clients every 7.5 minutes
$100,000 in capital is obtained by SBDC clients every 8.9 minutes.
America's SBDC represents America's nationwide network of Small Business Development Centers (SBDCs) – the most comprehensive small business assistance network in the United States and its territories. Business has changed dramatically in the last 40 years, from the introduction of new technologies to the expansion of global trade. America's Small Business Development Center (SBDC) network has been there throughout — helping small businesses succeed, and helping aspiring entrepreneurs achieve the American dream of owning their own business.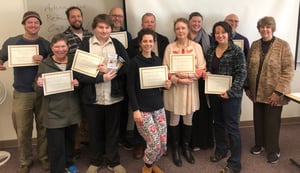 At the Oregon Small Business Development Center Network we are building Oregon's best businesses. Our 19 centers assist small businesses throughout Oregon with advising, classes and access to the resources they need to be successful. Each Center is backed by our statewide network of support, helping small businesses access the right assistance wherever they are in Oregon.
Follow #SBDCDay to join the conversation!
Learn more about the Oregon Small Business Development Center Network at: www.BizCenter.org