Noah Brockman has been working for the PCC Small Business Development Center for 14 years. His specialty these days is in the area of finance -- assisting small business owners in accessing capital to grow their business. He leads the Oregons SBDC statewide Capital Access Team (CAT). This is his story.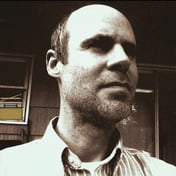 Noah, what is your real world experience? I have had a variety of careers in my life, including: Oregon State Legislature staff, Political campaign staffer, Market Research, Foreign Service Intern in Costa Rica, Policy Analyst working for Army staff, Private Small Biz Consultant, Project Management, Contract Trainer, PCC SBDC Advisor, and Commercial Property Manager.
What is your favorite part about being a Statewide Program Lead? I enjoy leading initiatives in coordination with the Capital Access Team members and SBDC colleagues to deliver statewide services in collaboration with our federal, state and local resource partners.
I imagine you have been very busy during the COVID-19 pandemic helping small business owners. Can you tell us about a time that you were most proud in your role as Statewide Program Lead? Yes, we have been very busy! At the end of 2020 we took a step back from the Oregon SBDC Network's pandemic response efforts to review and take stock of the work we did to inform clients, colleagues and partners about pandemic relief opportunities. I'm proud of three things in particular: (1) we provided pandemic funding related webinars to hundreds of business owners and colleagues; (2) we created pandemic funding program summary publications; and (3) we spent hundreds of hours advising small businesses across the state on their best funding options during the pandemic.
What kind of transformation do you see in your Capital Access clients? We see the businesses we work with go through a huge transformation when we help a small business owner gain access to capital. They are able to fund important projects that might not otherwise occur, helping them to achieve their goals.
What skills are needed THESE DAYS in order for someone to achieve success in small business? There are so many skills needed. Among them are flexibility, tenacity, grit, financial acumen, attention to detail, personal integrity, desire to be of service, humility, as well as a commitment to continuous learning.
What do you think small business owners struggle the most with when it comes to accessing capital? Many have a lack of experience and don't know what they don't know--both in terms of navigating the funding process as well as not knowing the full scope of funding options available to them.
How do you help them with this? We guide them through the process based on of our team's decades collective industry knowledge and professional expertise.
If you could give one piece of advice to all your future clients, what would it be? Stay curious. Ask lots of questions. Take good notes.
How do you keep yourself knowledgeable and up to date on trends and industry standards in order to deliver the best quality of education? I am always tracking the latest program developments, engaging with our partners, talking to experts, comparing notes with colleagues, staying curious and always learning.
What do you do for fun? I like to hike, write, camp, garden, fix stuff and do landscaping projects, all while listening to quirky public radio programs and podcasts.
What have you been doing during the pandemic? I've been watching old BBC TV series and experimenting with vintage stovetop espresso coffee making.
What are your top 5 Podcasts? Well, let's see. . . I listen to:
The Italian Hour - KBOO 90.7 FM
News with My Dad (Jefferson and Joe Smith) - XRAY 107.1 FM
The Daily (NYTimes) – with Michael Barbaro
This Week with Oregon State Senator Betsy Johnson
The Occasional Barista with Christopher Pai
---
The Oregons Small Business Development Center Network Capital Access Team (CAT) is comprised of specialized SBDC advisors located around the state that provide confidential, specialty business advising on accessing capital to foster economic growth and resilience. They can be reached at https://oregonsbdccat.org/.