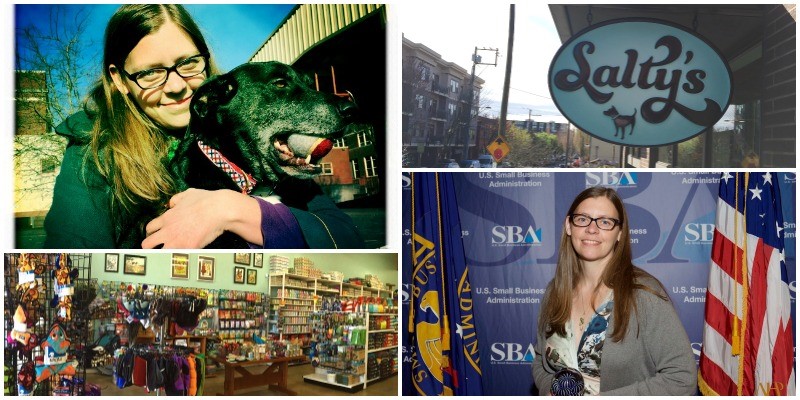 The PCC Small Business Development Center is proud of the great work all of their clients are accomplishing in their businesses. Our Business Profile feature series highlights businesses at all stages of development and success.
Business: Salty's Dog & Cat Shop LLC: DBA Salty's Pet Supply // DBA Fang & Feather
Owner: Nancy Fedelem
Start Date: Salty's Pet Supply est. April 2005 // Fang & Feather est. October 2012
Website: saltyspetsupply.com // fangandfeatherpdx.com
Address: Salty's Pet Supply: 4039 N. Mississippi #104, Portland // Fang & Feather: 1926 N. Kilpatrick St, Portland
Tell us about your business.
Salty's Pet Supply is located in the heart of North Portland's Mississippi neighborhood. We feature healthy, practical, affordable pet food, products and accessories to meet the needs of neighborhood pets. Our second location is Fang & Feather in the Kenton Neighborhood.
What inspired you to start your business?
My inspiration comes from wanting to provide a store that people can shop at and know that their animals will be taken care of the way I would take care of my own. I love my 4 dogs and cat and I want them to have the best life they can and that is what I want for everyone that shops at my stores. Healthy pet food and treats are the stepping stones to a wonderful life together.
Before coming to the SBDC, what were you struggling with in your business?
My books were a mess, I knew enough to be dangerous but not how to understand all the information. I was getting ready to open a second location in 2008 and didn't have a good grip on cash flow and capital. SBDC helped me get my ducks in a row and open a successful second location. In 2009 I sold that store and moved my first location to a larger space. In 2012 I opened another store (Fang & Feather, third store!!) and needed help figuring out the next steps in keeping my businesses successful and how to run two locations and manage 9+ employees. SBDC has helped me every step of the way staying profitable and following my dream to own and run my own business.
What types of services did you receive and/or in which programs did you participate?
In 2009 I received an SBA ARC loan that helped me be able to grow my business. I also worked with advisors in 2008 when I was opening a second location. In 2014 I took the SBDC Retail [Small Business] Management class.

How did the services or programs help you overcome your challenges?
SBDC helped me get my accounting in order and understand the cash flow of my stores. I have lots of confidence in understand the financials and success of my stores. SBDC has also helped me understand how I can run every part of my business better, from employee management, to marketing, inventory management and also taking care of myself so I can enjoy by shops and my life. Thank you SBDC!!!

Why were the services or programs helpful to you?
Without SBDC I would not have made important changes to the way I run my business and work with my employees. SBDC gave me the confidence to expand my business and see that all the work I do is paying off.

How is your business doing now?
Business is busy as usually. Every day we meet new customers and take care of our existing customers. The dogs that come into the store could not be happier with the abundance of treats that wait for them and the friendly staff that are happy to see them too. Their humans love it too.


The SBA Portland District Office awarded Nancy Fedelem the Small Business Spirit Award during the 2015 Small Business Week Awards.