Serving more than half a million small businesses and aspiring entrepreneurs in Fiscal Year 2020, America's Small Business Development Centers (SBDCs) rose to the occasion during a time of unprecedented challenges. From the beginning of the coronavirus pandemic, America's SBDCs were on the job. Providing free, one-to-one business consulting and free or at-cost business training, SBDC consultants, trainers and staff helped America's small businesses (and the communities they serve) adapt and survive.
As one SBDC client described it, "I was trying to keep it together but panicking! Then a friend recommended I talk with the Alabama SBDC. I talked to my advisor an hour and a half the first time I called her. She was also a small business owner and knew what a state of mind I was in. She has ended up advising me on every step and has even kept me ahead of the game, giving me information as she learns it." – small business Owner and Chef Yanni Tempelis, who worked with her local SBDC to secure PPP funds and help save her business.
The
America's SBDC 2020 Annual Report
showcases the work of the 62 state and regional SBDCs that form America's nationwide network of SBDCs. From helping small businesses address the Covid-19 crisis to serving America's veterans, women-owned businesses, underserved communities and young entrepreneurs, to promoting technology development, exports and rural development, America's SBDCs show why they are America's largest and most trusted network of small business assistance providers.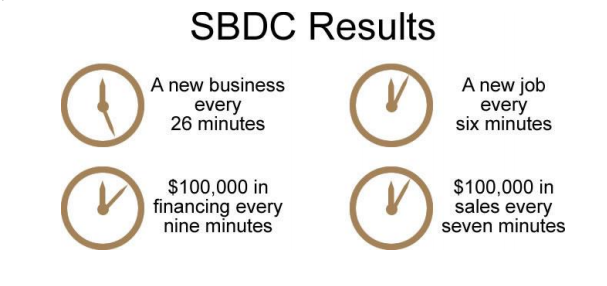 The Annual Report also includes data from a study of SBDC results in 2019, among businesses that received five or more hours of SBDC business consulting the year before. The study shows that SBDC clients started a new business every 26 minutes; created a new job every six minutes; accessed $100,000 in financing every nine minutes; and made $100,000 in sales every seven minutes. While the average U.S. business saw annual job growth of 1.3 percent, the average SBDC client's annual job growth was an estimated 9.7 percent. And while the average U.S. business saw annual sales growth of 4.1 percent, the average SBDC client's annual sales growth was an estimated 13.4 percent. SBDCs are America's nationwide network of Small Business Development Centers. A partner program of the SBA, SBDCs are hosted by universities, colleges, state economic development agencies and private sector organizations. Their mission is to help start and grow small businesses.
Small business owners and aspiring entrepreneurs can go to their local SBDCs for free, one-to-one business consulting and free or at-cost training, in areas such as business planning, accessing capital, marketing, regulatory compliance, technology development, international trade and more. When small businesses succeed, our communities and our nation succeed. Almost half of all private sector employees work for small businesses, and small businesses account for 65% of net new job creation in the United States!
America's SBDCs
help make the dream of small business ownership a reality for more Americans — creating jobs and opportunities that build communities throughout the nation. See the America's SBDC Annual Report online at www.sbdcimpact.org. Learn more about SBDCs on the America's SBDC website, and find your nearest SBDC at americassbdc.org/find-your-sbdc. With nearly a thousand SBDCs across the country, there's an SBDC near you.
- - - - - - - - - - - - - - - - - - - - - - - - - - - - - - -
---


Programs and services are provided to the public on a non-discriminatory basis. Language assistance service are available for limited English proficient individuals. Reasonable accommodations for persons with disabilities will be made if requested at least two weeks in advance. Please contact us at 971-722-5080 or sbdc@pcc.edu, to request accommodations. Oregon Small Business Development Centers are funded in part through a cooperative agreement with the U.S. Small Business Administration, and the Oregon Business Development Department.