Kayla Banda moved to Portland from Reno, Nevada during the COVID pandemic. Having worked at the Small Business Development Center in Reno, she reached out to inquire about assisting small businesses in Portland and was immediately welcomed to the PCC SBDC team.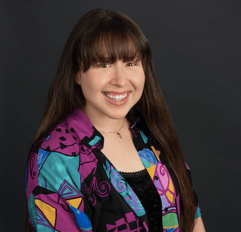 Welcome to Portland, Kayla! Can you tell us about your work with the Nevada SBDC?
I worked with the Nevada SBDC for five years, starting as a marketing-focused research intern and advisor and eventually transitioning into a full-blown advisor, working with clients in areas of business model development and business planning, marketing strategy, financing, operations, and more. It was during these five years that I fell in love with the service aspect of the SBDC's work, helping hundreds of entrepreneurs work through their entrepreneurial journey. It was also during this time that I became part of the larger SBDC family, which allowed me to continue my work when I moved to the Portland area.
What brought you to Portland?
Portland has always been one of my favorite places. The wonderful balance between city and nature is so inspiring. Growing up in the desert landscape of Las Vegas, NV, I've always yearned for greenery and cool air. Then, after living in Reno, NV for six years, I fell more and more in love with the outdoors. Portland offered a wonderful mix of cultural, environmental, and professional fit for both myself and my husband. So, we made the move and haven't looked back!
So, you have been doing this work for a while. Can you tell us what drives you to do this work of teaching & advising?
I believe business is one of the most influential forces for good within our community. Sometimes, our clients need support to help make their dreams come true, bring economic opportunity to their communities, and unlock their own potential. Providing my community members the education, structure, and support they need to thrive, the support needed to help our communities thrive, makes me happy!
So, what kind of experience do you personally have in small business operations?
I grew up in a family of small business owners and learned so much from the challenges and successes I saw. Now, my husband and I spend our time growing a creative brand, which is the basis for our own art-based small business. During our experience, I've utilized the whole spectrum of my business experience from branding and marketing, to customer relations, to legal issues and financial planning.
You have been working at the Small Business Development Center in Reno, Nevada for a few years. What is your favorite part about being an Advisor?
It has to be the moments when my clients come to realizations about their business and even their personal lives which allow them to get one step closer to their goals. There's nothing quite like the shared excitement around goal-hitting or the feeling of progress. Watching my clients grow is absolutely my favorite part!
Do you have an example of a time that you were most proud of in your role as an instructor or advisor?
Every year, when the SBDC's annual report is published, I am reminded to take a step back and feel pride and gratitude for the impact my team has on our community. In that report, I can see tangible results from our work throughout the year, summarizing the effect SBDC has on local economic development. When I see the number of jobs created, businesses started, capital raised, and more by our clients, I am filled with pride, knowing that my work has counted for something great.
What kind of transformation do you see in your clients during your work with them?
Clients usually work through an upward cycle of uncertainty, confidence, overwhelm, and progress. While the cycle often continues throughout the entirety of their entrepreneurial journey, a beautiful transformation comes when clients get more and more comfortable with the ups and downs of business.
What skills would you say are needed in order for someone to achieve success in their small business?
Some important skills include: being able to work within the unknown, learning how to take calculated risks, understanding the relationship between failure and learning, and learning how to set healthy boundaries that give you the space to say both yes and no.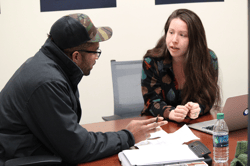 If you could give one piece of advice to all your future clients, what would it be?
Understand that it's okay to become frustrated when you think you've figured it out, then are faced with something new to figure out. Entrepreneurship, like life, is an ongoing learning opportunity. The goal isn't to know everything—it's to keep on learning!
How do you keep yourself up to date on trends and industry standards in order to deliver the best quality of advising?
I'm always looking to learn from my clients, my professional colleagues, and experts within my community. In addition to structured professional development such as conferences, topic-based webinars and books, and business news sources, I think it's critical to learn about industry and consumer trends directly from those who are seeing business at work every day!
What do you do for fun?
I love to work on creative projects of all kinds! From film to written word to photography and music, I love utilizing art to share my thoughts and wonders about the world. In particular, I'm focused on sharing the importance of recognizing balance within our lives. The best part of our existence lives within the balance between art and business, happy and sad, this and that. Balance is where we find belonging, and creative projects allow me to experience this within myself!