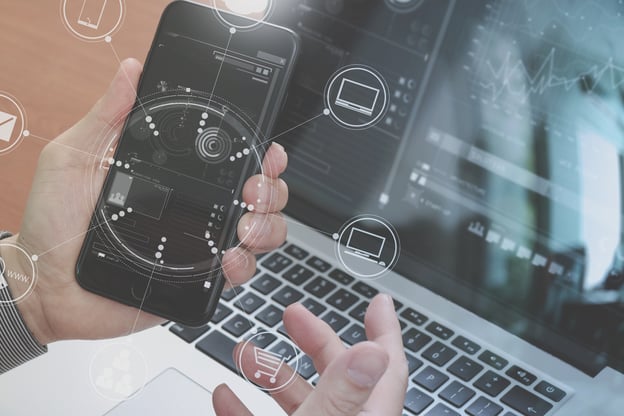 More and more, people are turning their efforts to engage with the internet from laptop or desktop web browsers to app-based programs on smartphones and tablets. This shift has made what was already an essential app development field into an even more valuable area of focus. People are creating full-time positions and freelance roles with unprecedented flexibility simply by understanding how to design and code for Apple's iOS.
Whether you're an experienced coder in other contexts or new, a Portland Community College course in Apple iOS can help you jumpstart your career and enter new spaces of app development. Here's how to build iPhone apps using this knowledge!
What Can Apple iOS Knowledge Do For You?
Apple's iOS programming language Swift is a powerful and intuitive coding language. Using this language, developers can quickly get up to speed and begin designing and developing their mobile applications. Using the Develop in Swift Explorations curriculum, you can quickly prepare for a recognized certification credential. It allows you to prove to employers and clients that you have the necessary skills to construct and launch applications on the Apple App Store, which will be easy to download and use. 
Hobby or Freelance or Full-Time: Why App Development Is a Flexible New Skillset
One of the most impressive features of an app development course is that it is quick and inexpensive, allowing you to fuel various pursuits with your new skills. Consider how three different people who learn Apple iOS coding could use their skills:
Person 1 chooses to apply for an entry-level position at a company with a large and complicated application that needs to be constantly updated and maintained to function optimally for the client. This person learns from other upper-level developers on the job and develops additional skills in the world of programming and design, even though he's only focused on particular parts of the app for his work.


Person 2 chooses to launch a freelance business where she takes clients through from coming up with the idea for an app to developing basic mock-ups of what it will look like, design-wise. She then does some basic coding in iOS for the client and works collaboratively with another freelancer who has additional experience building out apps. This role allows Person 2 to work part-time using her new skills and spend more time with family and friends between projects. 


Person 3 loves her full-time job working as a Preschool Director but has noticed room for improvement in the apps that she uses to communicate with preschool parents. She uses her new Apple iOS skills to make a new kind of parent-teacher communication app that has features that she has always wanted. It takes a bit of time in her free time. The app ends up being so popular that she eventually sells it to a larger company that wants to incorporate those features into an existing parent-teacher communication app.
As you can see, even a basic level understanding of Apple iOS allows people to get into roles as diverse as an entry-level full-time, freelancer, or even hobbyist seeking to design something they want to exist in the world. Because many people who have ideas for apps don't take the next step to learn to code in Apple iOS, they need people like you to help them make their dreams a reality.
What Does the PCC Course Include?
Make this new set of skills your own with a two-part iOS series from Portland Community College, all of which you can do in one term. These courses include Mobile Design and Mobile Development, where you'll learn distinct features that allow you to make an app functional versus looking great and well-branded. The techniques used recognized curricula from Apple and worked to prepare you to take the CERTprep Apple Swift Certification Level 1.
By focusing on what you'll need to take and pass this industry-wide credential, you get the opportunity to demonstrate your skills to a hiring manager. You can also use this certification credential to demonstrate to clients that you're ready for the work of a Level 1 professional. Because the courses are a standalone non-credit series within our Professional Development and Training Department, they cost a fraction of what you'd pay for a bachelor's degree in computer programming. Get started programming quickly while you dive into the opportunities that knowing app development and design can do for you!
Want to learn more beyond learning to code for iOS and how to build apps for iPhone? Portland Community College offers a variety of web design and computer coursework that leads to meaningful, flexible career options. Check them out today and put together your personalized course of study.