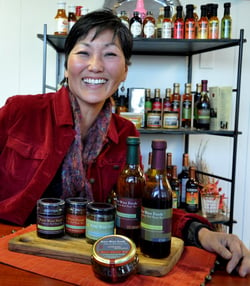 How would you feel if you could experience a different culture through something as personal as your own taste buds? River Wave Foods strives to provide that intimate experience to their consumers through a wide array of cooking sauces and tapenades. After leaving the stable world of flight attending in 2006, Rebecca Kawanami jumped right into the world of business by incorporating River Wave Foods into an LLC and putting all of her efforts into her sauce and tapenade product lines. She enrolled in the SBDC's Getting Your Recipe to Market in 2007 with just one product in her repertoire (the Thai sauce) and has expanded since to include two more sauces, one tapenade, and two vinaigrettes.
"When you start a business, it's so all consuming," said Kawanami. She likened starting a business to having a child. Your time becomes absorbed by every aspect of the business and if you are a solopreneur like Rebecca Kawanami, then you need to know the details of your business inside and out. Whether or not accounting or marketing is your strength, it has to become at least one of your competencies.
For Kawanami, a self-proclaimed people-person, the most tedious tasks are keeping atop all the things that need to be filed and keeping QuickBooks up to date. Everything else (developing recipes, talking to people, experiencing new foods) is the fun aspect of her business that can happen after the accounting is updated.
"Like a child, the development of product is almost like you've given birth to this baby and then the work really begins." If she isn't in the lab working on research and product development, then she is out on the road doing demonstrations in either in the Portland area, Eugene, or Seattle or attending farmers markets. With hopes of expanding to more places around the Pacific Northwest, the biggest constraint is budgeting and time. In her experience, thus far, without a way of marketing your product, it will not move off shelves. The most valuable marketing for River Wave is getting right in front of the consumer and demonstrating how the flavor of a sauce or tapenade can enliven up a dish and carry you to a different – tastier – food experience. Considering there are so many food products to choose from, River Wave can continue to capture the market with their continued dedication to direct consumer interaction.
Not only did product line expansion occur soon after becoming part of the SBDC's network, but River Wave Foods also developed camaraderie with other budding businesses to trade horror stories or celebrate in success together. Lending an ear or bit of wisdom to fellow business owners continues to be one of the advantages of having this support network available to both past and present SBDC members. With six products and counting, Kawanami's business that began with just one Thai sauce looks bright.