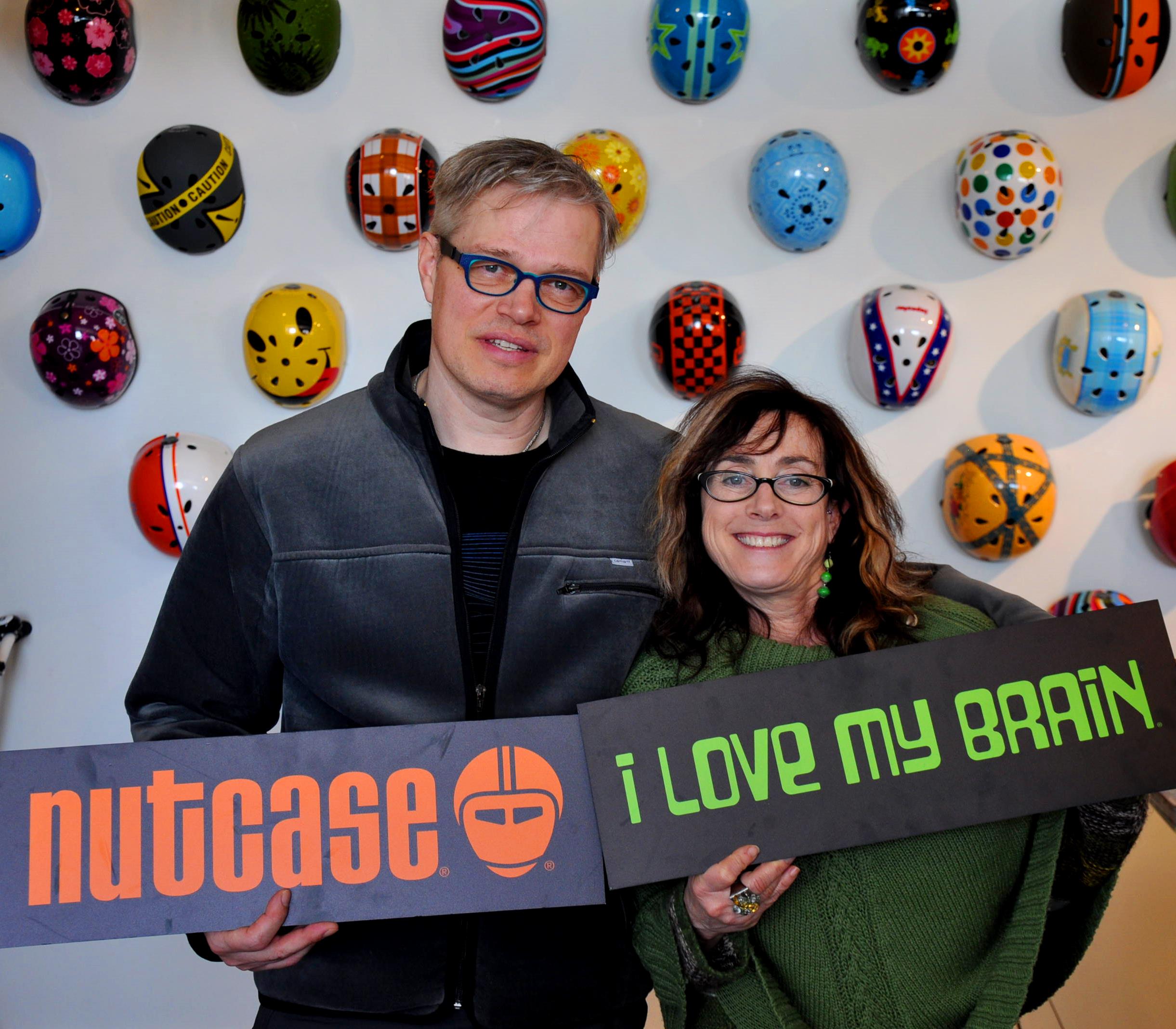 Nutcase Helmets' story begins at the Oregon State and University of Oregon rivalry game. Michael Morrow, former creative director at Nike, wanted to properly cheer on his team, the Beavers; he took an old helmet and bolted rubber ducks with drawn-on uniform numbers and crossed out eyes. The reaction was overwhelmingly positive. Michael stumbled upon niche – helmets that are fun to wear and an outlet for self-expression. And so, with his wife Miriam Berman, Nutcase Helmets was born in 2000.
Fast forward to today, Nutcase Helmets sells in 33 countries, has over 150 helmet designs, employs 13 people, produces helmets in 4 different categories, and not to mention has saved lives. The company has a strong brand and its customers are loyal as demonstrated in their "love letters" section on their website. In March 2013, Nutcase Helmets started working with the PCC SBDC Grow Oregon team, an initiative of the Oregon Business Development Department to bring strategic advising and resources to traded-sector, growing companies.
Nutcase Helmets primarily needed assistance in search-engine optimization (SEO) and market research. Colleen Wright, digital marketing advisor, worked with Philip Mascher, marketing director, to identify top keywords, meta tags, and descriptions to bolster the company's SEO. "That was hugely helpful. Working with Colleen, was both getting hands-on like getting lists of keywords and understanding how those work both in the site copy and in tagging. There was also a pretty strong training element to it," says Philip. Now, the marketing team is able to update keywords and tags on their website. Additionally, Southern Oregon University Market Research Institute created user personas to help guide marketing strategy, which has been an ongoing issue because of the company's diverse customer base.
"Everything is changing so much, on so many fronts. So this [Grow Oregon] was really the start of doing any thought-through marketing plan work," says Philip, "It's been a huge help to get to where we are now." Nutcase Helmets is well on its way for future growth including new product lines and securing more distributors worldwide.
For more information on Grow Oregon and how your business might benefit from the program like Nutcase Helmets, check out the our blog post on Grow Oregon.