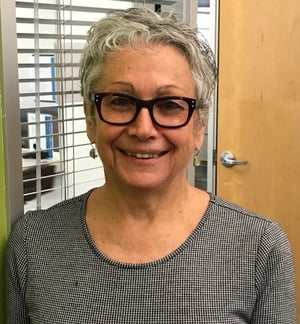 Mediation Instructor Tsipora Dimant is a former program manager with PCC's Community Education program – but her connection to Portland Community College runs even deeper. She arrived in the United States from Israel in 1974 and earned a GED, then an Associate's Degree from PCC. Tsipora began studying mediation in 1992 and became an instructor for the subject in 2005. Inspired by the conflict in her native Israel, Tsipora strives to find resolutions to complex communication challenges. Her experience in mediation training spans decades and encapsulates diverse fields including small claims court, business, nonprofits and higher education.
What do you like about working at PCC?
PCC was the main source of my early education. I arrived in the US as an immigrant from Israel in 1974 and registered in English classes in 1975. I passed my GED that year and then enrolled in the two-year associate degree program in business administration. I completed my bachelor's degree at Marylhurst University in Organizational Communication.
In 2000 I returned to PCC to work for Community Education as a Program Manager and worked there for 11 years. I love PCC. I am very grateful for my education, the help I received from so many people who guided me and the excellent teachers I had. I also enjoyed my work in Community Education. The variety of classes we offered, with the goal of making them affordable and accessible to the community, aligned with my philosophy of access to education. I love PCC for being so thoughtful and inclusive.
How did you become an expert in this subject?
I took my first mediation training in 1992 and I knew then that I wanted to do this work. I continued to take training and workshops, and volunteered my time at small claims court mediation an average of 2-3 cases a week for a period of 10 years. In 1995 I was hired as a mediator at the Better Business Bureau and later became the director of its mediation program. I started teaching mediation classes at PCC in 2005 and have been teaching on and off since then.
I mediate regularly for families, workplace, and business. I am currently a full-time mediator and a trainer for the City of Beaverton. In addition to teaching basic mediation training, in 2019 I will teach a one-day conscious communication class, helping people gain communication skills to minimize and resolve conflicts. I will also teach a two-day mediation class to leads, supervisors and managers.
What sources of information do you use to stay current on mediation best practices?
I work full time as a mediator and trainer and have a private practice. The experience of mediating and teaching is a strong advantage to my continued understanding of how people respond to conflict and the ways that mediation can help. I also read industry publications and go to subject-related conferences.
What trends will have the biggest impact on mediation during the next year?
The current trends are the use of mediation with couples and families. More workplaces also use mediation to address minor issues before they escalate to become hostile work environments. I predict continued awareness for the practice.
Mediation is also used to facilitate a resolution between juvenile offenders who commit minor crimes and their victims. Many victims choose to sit down and talk with the juveniles and negotiate ways to repair the damage without the interference of a judge.
What is it about mediation that compels you to remain interested?
I'm compelled by the difference a facilitated conversation can make when restoring broken relationships to positive conclusions. There is also the potential for people to create a stronger working or living relationship than before. Watching people reach peaceful resolutions has compelled me to continue my work in the field for over 25 years. I grew up in Israel when there were frequent wars with Arab neighbors and even served in the army during one of these wars. I saw the destructive power of war and I believe that we can prevent wars by learning to communicate well with one another.
How does someone get into mediation?
The first step is for people to attend the basic mediation training. That allows prospective practitioners to apply for volunteer or paid positions at a number of mediation centers, including small claims courts in different counties in Oregon. Many attorneys and family counselors take the training to expand their practice.

How does mediation training improve competitiveness in the workplace?
People who take mediation training gain the advantage of improved communication skills, and the ability to address conflicts before they escalate and interfere with their work environment and impact productivity. Many employees with mediation skills are able to address frustrated or angry customers, which is a strong advantage for a company.

How can one use mediation skills to advance in their career and personal relationships?
One of the outstanding skills of a mediator is learning to listen well. When people feel heard and understood by their co-workers or their partners, they are more willing to recover from conflict and rebuild relationships. When communicating, most people can take turns talking and sharing, but miss the part of listening well. When communication occurs without active listening, there is a risk that that the parties will not reach the understanding needed to move away from the conflict.
What associated skills would help someone advance in this field?
Most communication classes help students deepen their understanding of how and why people respond in certain ways to each other. These classes also teach students how to improve communications skills and preserve relationships.
Share something interesting that you have learned from your students.
I've learned that some of my students choose to take the training after having been caught up in a conflict and wish to improve their own skills. Recognizing that they can improve their own communication styles is a strong motivator to help others. I've also learned that when a group of students of diverse backgrounds study this skill together, it creates a very rich learning environment.
***
Tsipora is an instructor for PCC's mediation training program.