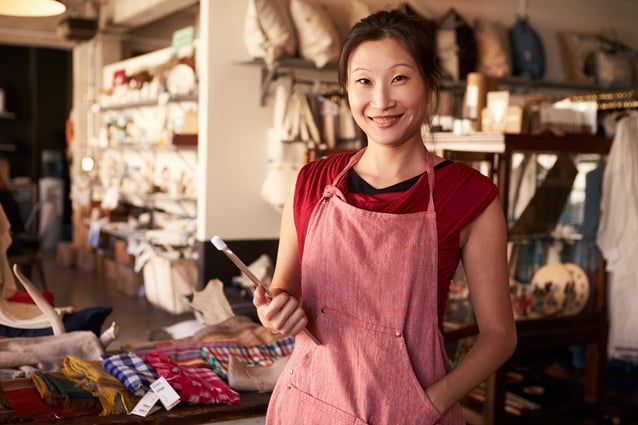 Starting, running, and maintaining a retail business can be a rocky road. The hard truth is that only 47% of retail businesses survive longer than four years. The good news is, mistakes can be avoided if you learn from others' mistakes!
There's a ton of variables to consider for retail businesses owners, from finance to human resources, to physical location and pricing strategy. Many of these common pitfalls can lead to inefficiency, frustration, and (in the worst cases) failure.
The question is - what are the most common pitfalls that lead to retail business failure, and how can they best be avoided?
Here are four retail business mistakes that trip up many retail businesses, and tips on how to avert them.
Hiring the Wrong Employees
Successful retail businesses aren't built just on products, but people as well. Hiring great employees can be a key driver of success, while bringing on bad workers can pave the road to disaster. In a retail environment, teams work in close physical proximity and deal frequently with the public, so one bad employee often has a significant impact on everyone else. The cost of bad employees to a retail business manifests itself in various areas, such as lowered productivity, poor customer service, decreased employee engagement.
Smart retail owners and managers want to take steps to ensure this doesn't happen by taking proactive steps during the hiring process. Take every opportunity to check as many employee references as possible. Get a "second opinion" from other employees, managers, or business mentors before hiring as well. Finally, during the interview process, try placing them in as many real-world type scenarios as possible. You'll get a better read on how they'll react under stress and pressure once they're working in your retail business,
Choosing a Poor Location
The old saying "Location is Everything," is of the utmost importance in retail. Choosing a poor location will negatively impact your in-store foot traffic, and in turn sales and revenue. Lack of customers will also have a trickle down effect to employees, negatively impacting their morale. And according to the Small Business Association (SBA), poor location is among the chief causes of business failure.
When choosing a retail location, consider whether or not your target consumer is in abundance nearby. If you're opening a high-end fashion boutique for upper-income consumers, a location near a college campus might not be the best idea. Also consider accessibility, making sure that there's adequate parking or easy access from public transport. Your location should also be highly visible, and not tucked away in the back of a strip mall, for instance.
Setting the Wrong Price Point
You might have a great location, rock solid employees, and a fantastic product, but if consumers don't feel like they're getting value for their money, they simply won't buy your products. Setting a price point too high will negatively impact sales and revenue, while on the flip side, pricing your products too low will eat into your profit margins.
When setting pricing, the first step is to make sure that what you're selling your products for at the very least covers the cost of what it takes to bring it to market. You may also want to start by offering an initial discount on your products for a limited time and raise the price point over time to get a better idea of what the market will bear. At the end of the day, setting the perfect price point isn't an exact science, and will require some trial and error. The main thing is to know the cost of goods sold (COGS) inside and out, and set a price point that will cover those costs and (ideally) maximize profit margin.
Under-delivering on Customer Service
It's tempting for retail businesses to devote most of their energy to generating - and maintaining - a certain volume of in-store sales. But in doing so, many retail businesses neglect a critical aspect of ensuring repeat business, and that's customer service. Poor customer service is a reflection on your brand, values, and overall attitude towards customers. Failure to deliver satisfactory customer service will aggravate your customers, and ultimately cause them to go elsewhere.
The most important aspect of ensuring that you provide great customer service is employee training. Make sure you have a standardized process for you workers dress, greet customers, and guide them through the purchase process. Also, have a customer friendly process for politely handling complaints, disputes, and returns. One of the most powerful forms of marketing is word of mouth, and great customer service is something that people often rave about when brands over-deliver.
Now that you know how to avoid these business mistakes when growing your retail business, you'll be able to avoid being one of the over 50 percent that goes out of business after four years. Hire the right people, pick the right location and price point, and provide amazing customer service, and watch your sales figures go through the roof.