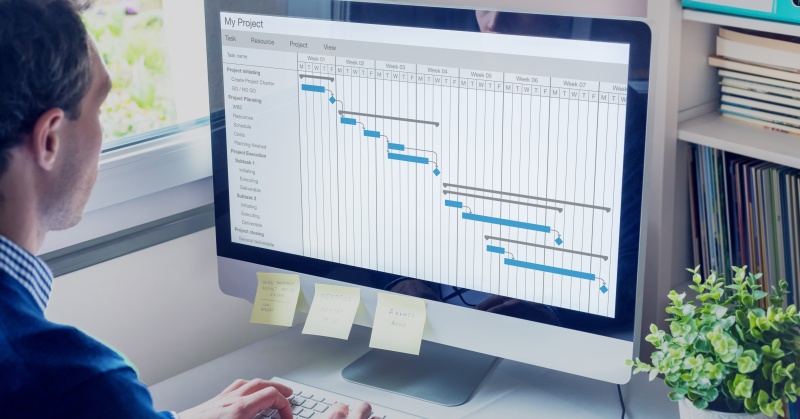 Project management is a key element of business regardless of the industry someone works in. With multiple stakeholders, complex client needs, and the demands of high efficiency, companies recognize the benefit of people with a project management skill set. These roles are in charge of creating smooth workflows and that everyone knows when their element of the project needs to be done. This includes the specifications and details that might otherwise get lost in the shuffle. Project managers have varying salaries in the Portland, Oregon area, but they can achieve an average national salary of $66,137 according to Glassdoor.
Project management professionals are spending more time than ever using technical systems that integrate project workflows, alerts systems, and project details so that everyone can easily access a single cloud-based platform. Unfortunately, many project managers who look for a new job realize that they have a new project management software to learn. That's where PCC's valuable remote career training course can be beneficial. Your background in project management can be entry-level or highly experienced and these flexible project management training courses help you to quickly get up to speed on different software programs.
Mastering Project Management with Microsoft Project 2016
Want to really understand how Microsoft Project works, but with an emphasis on how you'll use it as you progress through a project? The Portland Community College course on mastering project management helps you define projects, strategy, and activities, as you begin the process of completing projects under budget, on time, and with the highest possible quality. You'll learn about scheduling, procurement, risk assessment, costs, forecasting, and even how to close out phases and projects. You'll also have the opportunity to prepare for the Project Management Professional certification in this class.
Mastering Project Management with PMP® Prep
This course focuses on that same Project Management Professional certification, which helps you showcase your skills while meeting industry standards along the way. Rather than focusing on a single software, this remote training course helps you gain an in-depth understanding of the best practices of project management as a field. You'll understand how project managers look at all the inputs of time, budget, and resources that must be allocated wisely and how to communicate about risks and challenges throughout the project. You'll learn from experienced professionals so that you can have a better understanding of the big-picture and common concerns that project managers encounter on a daily basis.
Project Management Essentials with CAPM® Prep
Focusing on gaining your Certified Associate in Project Management certification through the Project Management Institute? This course will show you the way. In particular, it will help you master the language that project managers use to accomplish their goals and communicate clearly. By understanding the core points underpinning everything from scope management to human resource management, you'll see why different pieces of the project management puzzle are more or less important to each of the key stakeholders who are part of a project.
You'll learn real-life examples that help you note risks to quality, communication, budget, and timing and mitigate them through the wise allocation of resources and skillful collaboration with the many people involved in the project. As a result, you'll meet and exceed the requirements for the Certified Associate in Project Management certification through PMI, a recognized institution in the field that will help you as a
The Complete Project Manager with Microsoft Project 2016
If you want to come out with the best understanding of project management tools through a remote training course, consider the Complete Project Manager course. This course combines two of our most popular offerings so that you can master the concepts and terms of the trade as well as apply them in one of the most popular platforms. You'll use assignments and exercises to make sure you have a clear understanding so that when you apply your knowledge in the workplace, you'll be able to work more effectively. Like our other courses, this class gives you the information you need for a variety of project management certifications, aligning with best practices in the field so that you'll be very well prepared.
Project management is a field that is set to continue to grow. For example, the Project Management Institute has tracked exponential growth in the amount of people who have pursued professional project management certifications, notably growing their certification numbers by 49% in the year 2000 alone. Being well-versed in this growing industry is a great way to get a foot in the door and to appear knowledgeable and confident in your interviews, with the ability to back up your conversation points with results when you start working. Want to learn more about how to learn through project management courses this Fall? Read more about our remote training courses today!