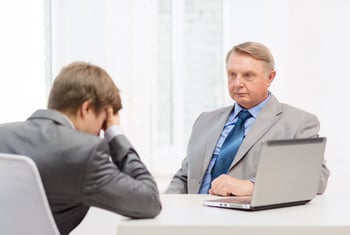 No one wants to endure the discomfort of having difficult discussions; yet it's a part of every job. Doing it well is what separates a leader from simply a manager.
Here are three difficult business conversations you may encounter and a few tips on how to not only make them easier, but more effective. Please note this is NOT legal advice and you should make sure you are following all state and federal laws as well as your HR department guidelines.
1. Terminating an Employee
While simply saying, "You're fired" is like ripping off a Band-Aid, it only works on a certain reality show. Additionally, in this era of hiding behind technology, human dignity dictates this—and all difficult business conversations—be had face-to-face.
Plan, but do not script, what you intend to say. Make it specific to the person. Avoid generic reasons such as "You are not where you need to be" or "This job is not a good fit for you." Vague reasoning could give way to water cooler conversations and create a culture of uncertainty and fear among all your employees.
Also, terminating an employee in anger is a bad idea. Wait a day or two before you have this difficult business conversation. Be aware of, and acknowledge, the other person's perspective. While you have been planning what you are going to say they might be shocked and scared. Even if they are the worst employees in history they are still human beings.
Additionally, have someone else present to witness the conversations because, regardless of how perfectly you handle everything, you need to protect yourself against any he said/she said litigation. Along those lines, always follow your Human Resources guidelines regarding disciplinary actions and documentation.
2. Addressing Poor Performance
This conversation can often be avoided if you lead by taking take a more proactive coaching and mentoring relationships with your employees. With that said, sometimes you cannot avoid this difficult business conversations.
Focus on the Positive
The Mad Men-esque days of harsh feedback are disappearing and the focus is on the positive, which makes having difficult conversations easier. The first key is to avoid reacting in frustration because that is when you're likely focus on the negative and point out weakness that need to be improved. Instead, come to the conversation prepared to elaborate on how the employee can excel. Start with, "There are specific ways you can improve at…." To avoid overwhelming, or defeating, your employee never provide more than two particular areas of concern.
3. Negotiating Pay
This is a tough one because almost all articles address the person sitting at the opposite side of the table; yet, we are in a period of wage stagnation. While you can expect negotiations, remember this is an anxiety inducing conversation for both parties. Regardless if you are having this difficult conversation with a new-hire or a valued employee it is important to be armed with knowledge about the market, your team, your organization and the employee. Be as clear and upfront as possible!
Let's say a valued member of your team asks for a raise. First, do the due diligence referenced in the paragraph above and come to the table with your final offer. Second, listen to him or her. Even if they are asking for your entire budget, they have taken a lot of time to prepare their argument. Third, communicate clearly and assertively. Many managers say things like, "I will see what I can do" or promise something they can't deliver, but because you have done your research you know if and how much you are able to give. If possible provide back up, such as your company's operating budget. The best advice for how to make this difficult business conversation easier is to be as transparent as possible and emphasize bonuses and perks.
No one wants to address terminating an employee, poor performance, or salary; yet by being prepared, being transparent and being proactive instead of reactive you can make them more effective. These unavoidable business conversations are uncomfortable for everyone involved; however, how these conversations are handled is what distinguishes a manager from a leader.