Press release originally posted on SBA Portland District Office website.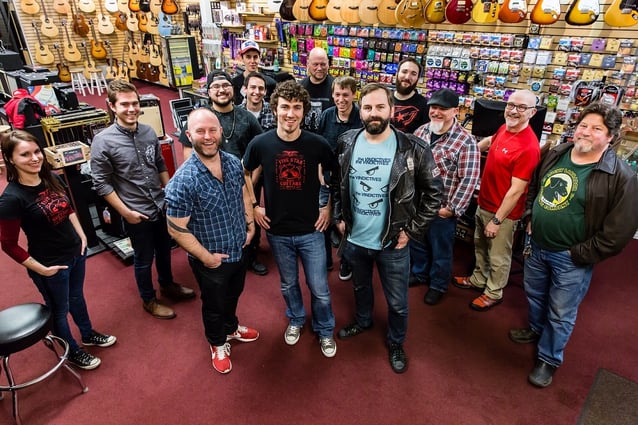 HILLSBORO, Ore.– Step aside food scene. . . before you made your global footprint, Oregon's music landscape ruled. And, the owners of Five Star Guitars, the 2016 Small Business Persons of the Year, are doing their part to keep both local and national musicians ready to jam.
Meet Geoff Metts, Jeremie Murfin, and Johnpaul Simonet.
"Our goal has been to create the best place for our customers to shop and for our employees to work," shared Geoff Metts, who leads Five Star's business development efforts. Jeremie functions as the team's CFO, handling bookkeeping and payroll functions, and Johnpaul keeps Five Star operationally aligned with IT and point of sale configurations.
In 2011, Geoff, Jeremie, and Johnpaul were presented with the opportunity to buy the shop that had been in existence since 1998. They knew from experience that they could run the store operationally—but was it a good investment? Before jumping in, the now owners sought the counsel of Portland Community College Small Business Development Center advisors at the Willow Creek campus. After extensive research and number crunching, the three would-be owners decided to take the leap. They have been fine tuning their business management skills ever since.
"I remember growing up and going to guitar shops," recollected Geoff. "I thought 'wow those guys have the coolest job' and now I'm in the same business."
Under new ownership since February 2012, Five Star Guitars has made some great strides: increasing the number of employees, registering double digit sales growth, and managing company liabilities. So, how do they do it? Five Star has a panorama of business competencies which include operating their retail sales locations, providing music lessons, performing as a top-notch warranty repair center, and growing their web sales.
Price-wise, Five Star Guitars keeps it competitive, while looking to deliver a long-term view toward customer relationships. Whether someone is buying a first instrument, or a professional looking for the newest unique accessory, Five Star Guitars takes pride in offering value through service before and after every sale. The retail shops also feature a number of local suppliers, from custom guitar straps to artistic locally-made pedals.
"We offer repairs ranging from basic instrument maintenance, like restrings and set-ups to more intensive repairs. We recently restored a turn-of-the-century Gibson mandolin," explained Geoff. "We are a certified warranty repair center for a number of top brands allowing customers to have work done locally."
Five Star Guitars contributes to the local music scene through several different avenues. The Five Star Guitars' music lesson program sponsors quarterly concerts, so that students can showcase their skills and learn to play as part of an ensemble. The next concert is scheduled for June 11, at the Hillsboro Farmers' Market. The team also works with school band directors and local parks and recreation music camps. Geoff serves on the Board of the Oregon Music Hall of Fame, and all three owners play in various local bands.
"Portland is one of the great music, arts, and food cities—from singer-songwriter coffee shops to big name venues," said Geoff, "And we are happy to be a part of the community."
For these reasons and many more, the Portland District of the U.S. Small Business Administration is proud to present the owners of Five Star Guitars as Oregon's 2016 Small Business Persons of the Year.
For more information on the SBA or services available through the Small Business Development Center Network, visit <www.sba.gov/or> and <www.bizcenter.org>.
###
Company Name: Five Star Guitars
Location: Hillsboro, Oregon