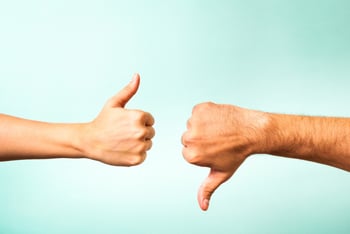 If your business doesn't use Facebook, or your page lacks in presence, it's time for your team to come up with a killer social media strategy. While you may not have hopped on the social media bandwagon yet, millions have. Many of these Facebookers could be potential customers. Can your company afford to neglect this growing and active audience? Below are 16 reasons why your business can't ignore Facebook any longer.
1. You Can Build Authority
By sharing your own content and starting conversations, you'll begin to build your authority as a credible company. Once you have that credibility, potential customers will begin to not only recognize, but trust you, ultimately leading to customer acquisition.
2. Monitor Your Competition
It's necessary to keep an eye on what your competition is talking about, promoting, and maybe even falling short on. This will give you incredible insight and avenues in which to improve your own social media game.
3. Beat Your Competition
According to a recent study, it costs five times as much to acquire a new customer than to keep an existing one. Just because you've got their 'like', doesn't mean they won't shop around. If your competitor is offering a special, you may want to consider one as well. Make sure to give shoppers more of a value for shopping with you. Just take Walmart's Black Friday conquest of BestBuy customers for example. Powerful stuff!
4. Excel at Customer Service
Many companies like to turn a blind eye to customer complaints on the web, but this can be extremely detrimental to your brand. Whether you respond or not, it's public, and will be seen by everyone. On the other hand, if you offer stellar customer service, Facebook can act as a platform to show the world just how great you really are. A study done last year found that companies with social customer care programs simply do better than their counterparts.
5. Create Community and Brand Advocacy
Brands that have embraced social media as a marketing element have unlocked the holy grail: build a community; not just a database. Engage with customers, start conversations so they know you're listening. Doing this will not only create customers who love your brand, but they'll begin to advocate for it, sharing their product recommendations with their followers.
6. Work the Search Engines
Search engine optimization can be a game changer for your business. SEO tactics and algorithms change constantly and generally require skills of tech wizards, but even if you're no expert, creating original content via Facebook can significantly boost your brand's visibility in a search.
7. It's Easy On Your Marketing Budget
Chances are you've spent hundreds if not thousands of dollars in the past on traditional media advertising. With DVR's, ad-free music options, and the inevitable death of news print, your ads on these platforms are getting less exposure. However, promoting your brand via social media is free! Of course, if you want to expand your reach, you can run advertisements, which are very reasonable and if done properly can be incredibly effective.
8. Use It For Recruitment
Use Facebook to your advantage! It's a great avenue to advertise openings at your company and connect with potential employees. You may be able to view their profiles getting an idea of what they're all about, weeding out those who share inappropriate pictures or stories. On the flip side, the most talented staff want to work at a great place. Before applying they may look you up online and make sure your company culture is in line with their passion.
9. It's a Powerful Crisis Management Tool
Whether or not you respond to social criticisms, people are going to post them. If you delete their comment on the page, they will share their grievances on their own page and their friends will see it. However you slice it, it is beneficial to have a social platform in order to be part of this conversation. Customers will see that you are acknowledging the crisis, and not ignoring it.
10. Generate Leads
In an effort to turn Facebook fans into leads, you'll need to educate them on why your products/services are the best and entice them to give your business a try. Use your Facebook page to turn fans into newsletter subscribers and offer incentives like promo codes to get them to your website.
11. Reward Loyal Customers
Creating customer loyalty should be a primary area of focus in your business. You spend so many resources acquiring a new customer, that if you don't reciprocate their brand loyalty with benefits, chances are they'll continue to shop around until someone does.
12. Learn About Your Customers
One of the great things about Facebook is you can get to know your audience. Using analytics like Facebook Insights in Hootsuite, not only can you discover major demographics, but it offers insight into customer behaviors and patterns. This can help you better target your audience and understand specific needs of your customers.
13
. Reach A New Audience Locally And Globally
One of the nice things about social media is that anyone, from anywhere in the world, can connect with your business. If your company has an online store, this can be huge! Of course, for local mom and pop shops not looking for a global reach, Facebook allows you to expand your local reach all the while nurturing your existing fans.
14. Increase Brand Awareness
Brand awareness is key to any good marketing strategy. After all, if consumers don't know you exist, how do you expect them to buy from you? In 2014 there were 600,000 Facebook logins every minute, up almost 30% from 2013's 461,805! It's time to get out there, get active and create awareness of your brand. If you're not, chances are your competitors are.
15. Market At The Speed Of Thought
The process of traditional advertising can take weeks if not months. Think about print ad sales. You need to discuss ad copy, fine tune that, have the creative for the ad produced and in a month or so your ad is printed in your local magazine. By then, you may have something new you'd like to push. The beauty of Facebook is you can snap a few pics, draft your story and post. Easy as that.
16. Easily Link To Your Site
Can your radio, TV, or print ad offer a "click here" for more info button? Didn't think so. Across all traditional media platforms, you're challenged with trying to get the customer to remember your website address, phone number or even just the business name! With Facebook, not only can you easily direct customers to your website, but a specific product/service page tailoring your advertising to what you're looking to push.
Make no mistake - Facebook is not just a site to reconnect with high school friends. It has become one of the most powerful marketing and advertising tools in the world. It is time for small businesses to start taking full advantage of what it has to offer.