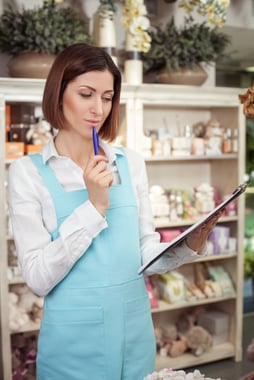 Are you just starting to develop your small business idea or plan? Maybe you're already up and running, but looking for ways to improve and expand? Marketing and branding are key elements to developing your business, and choosing the right name is usually the first part of that process.
We've written this post to show you how to choose a business name that connects and resonates with your target market. Below we'll go through some tips for choosing a name for your new business, along with a few examples to help you brainstorm. Arming you with these 10 resources and tips for choosing the best name for your business will get you started along the path to successful brand recognition in your community.
1. Does the Name Communicate What Your Business Is?
When starting the process of choosing a name for your business, you should think in terms communicating what exactly your business is or does. For example, if you have a hardware store, you might try including words like "tools" or "hardware" in the actual business name or subtitle.
2. Does the Name Match Your Overall Branding?
Your business name should match the look, feel and tone of your overall branding strategy and materials. A fun, playful tone for example, would be best suited for businesses like children's toys or pet stores. A tax preparation service would require a more formal, professional name.
3. Is Your Name Creative?
Look at names of similar businesses, and think about how yours can stand out from the crowd. There's a fine line between being clever and talking down to your audience, so make sure to test your name in some kind of focus group before making a decision. The bottom line is that having a creative and thoughtful business name will help you develop strong word-of-mouth marketing. Sara Blakely, Spanx founder, decided to change the "ks" in "Spanks" to an "x" after reading an article discussing how made up names sold better.
4. Have You Looked at the Competition?
They say imitation is the sincerest form of flattery, and you should look no further than your competition to inspire the creative process for your new business name. Obviously you won't want to directly copy another business name, but try to get inside the head of the person who came up with the name. What inspired them? What kind of process did they go through? See if there are any elements that will work for you that you'll be able to tweak and make your own.
5. How Will People Communicate Your Business Name?
Making it easy for people to communicate your business name is one of the best tips for choosing your business name. You'll want to avoid long, complicated phrasing or names that don't effectively tell customers who you are and what you do. Also consider incorporating some element of your own name into the business, like "Dave's Pest Control", that communicates what you do but also who you are.
6. Is Your Business Name Local?
This can vary in importance depending on how local your business is. But if your business has a local focus, and that's where most of your revenue comes from, you'll optimally want to include a local element in your business name if possible. In addition to letting people know that you're a local business, it will help build a local following amongst the community.
7. Is It Simple?
One rule of thumb when choosing a name for your business: Don't overthink it. A simple business name that encompasses both what you do and where you're based usually is the most powerful option. Be creative and play some riffs on the obvious names, but avoid overcomplicating things. Sometimes even a simple made-up name, Häagen-Dazs for example, can work well as long as it's easy to remember and stands out.
8. Are You Thinking of the Future?
Today's world is awash with trendy buzzwords and company names that embrace the latest trends all to readily. Avoid naming your business in a way that relies too heavily on phrases or words that might become dated too quickly. For example, companies that were named with the ".com" suffix are now somewhat dated, as internet businesses have moved beyond including that in their business names.
9. Have You Brainstormed?
The brainstorming process should include both researching potential names as well as an internal session with other people in your business. Keep records of all your brainstorming material, even if they might not seem like great ideas at the time. You never know when a small tweak will yield the perfect name for your business.
10. Is the Business Name Available?
Trademarking your business name is perhaps the most important part of choosing a name, so you'll need to make sure that the name you want is legally available. This small amount of work up-front will ultimately be a huge help down the road, especially if your business becomes a big hit. The last thing you want is a lawsuit on your hands after you've worked so hard to build brand recognition, all because you unintentionally chose a name that was already taken. The best place to start when it comes to resources for checking name availability, registration and trademarking is the U.S. Small Business Association (SBA) webpage on naming your business. You can also check the Trademark Electronic Search System (TESS) for trademark availability,
So there you have it, ten of the best tips and things to consider that will help you choose the best name for your new business. Now that you know how to choose a business name that will be unique and recognizable, you're well on your way to marketing success when you launch your company.
Any other tips or strategies for picking a great business name? Go ahead and let us know in the comments.