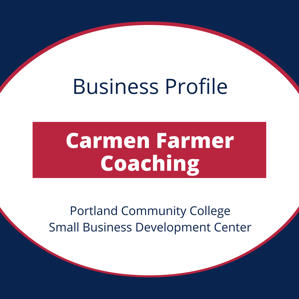 The PCC Small Business Development Center is proud of the great work all of their clients are accomplishing in their businesses. Our Business Profile feature series highlights businesses at all stages of development and success.
Business name: Carmen Farmer Coaching
Owner: Carmen Farmer

Business Start Date: January, 2017
Tell us about your business.
I'm an enjoyment coach who specializes in helping baby boomers create an enjoyable and fulfilling retirement life.
What inspired you to start your business?
I retired in 2014 from 17 years at a nonprofit and knew that my calling is helping other people enjoy their lives as much as I enjoy mine.
Before coming to the SBDC, what were you struggling with in your business?
I was already a good coach, but I didn't know anything about marketing or setting up a business. I needed help in finding my clients and learning how to talk to them about my service.
What types of services did you receive and/or in which programs did you participate?
I participated in an introductory workshop about setting up a solo business, and also I have received mentorship in general business practices and marketing from Sean Harry.
How did the services or programs help you overcome your challenges?
The introductory workshop gave me a picture of what it's like to start a new business, and Sean has helped me a lot with marketing strategy, business planning, pricing, sales, etc.
What have you done differently in your business since working with the SBDC?
First, he helped me narrow my focus to a more specific ideal client group. Then I did a survey to find out where my ideal clients tended to be and what they want from retirement. I started networking activities in order to better connect with referral partners who know baby boomers who are either planning for their retirement or who have already retired but are not as happy as they thought they would be. Sean helped me understand the networking process and how to be effective at it.
How is your business doing now?
I feel that I have a good foundation. Even though I don't have as many clients as I would like, I feel confident that my networking activities will start to bear fruit soon. I also plan to start giving some talks in conjunction with other people who are focused on the same target market.
What would you say to other small business owners thinking of working with the SBDC?
I have already recommended Sean and the SBDC to several friends who are also starting their own businesses. I see it as an extremely valuable resource for someone who is just starting out.