How would you like to take a 10-week Optician Assistant Training course to prepare you for a job that earns close to $21 per hour?

Train online, with four Saturdays in a classroom, toward becoming an Optician Assistant working directly under the supervision of a Dispensing Optician. The State of Oregon Employment Department reports that in 2019, Dispensing Opticians in Oregon are paid an average of $20.89 hour, with a median wage of $18.91 an hour. Learn more here.
What is an Optician Assistant?
An Optician Assistant is the employee you meet when consulting for eyewear. This is the person fitting and dispensing glasses or contact lenses for corrective vision.
What is the Optician Assistant Training.
The Institute for Health Professionals' Optician Assistant training program consists of online live lecture, and onsite lab hours. On the last day of class we'll arrange a visit from local business owners and you will personally hand off a physical copy of your resume to them.
About the Instructor.
Andrew S. Bruce began his optical career in his home country of England, before immigrating into the United States in 1987. He is a Washington State licensed Dispensing Optician and Contact Lens Fitting Specialist, with a Master's in Ophthalmic Optics. He's an advanced level approved speaker for The American Board of Opticianry Continuing Education Programs. His educational papers in his field of expertise have been published in the USA and Europe. Bruce is also an approved speaker for both The American Optometric Association CPC Continuing Education, and The National Contact Lens Examiners. His written works are used as instructional and reference materials by Highline Community College's Dispensing Optician Program. He is a regular contributing writer for Jobson Publications, and has written Continuing Education programs for both The National Academy of Opticianry and The Opticians Association of Washington.­ He serves as the Technical Education Consultant for VSP Optics and UUniversity. When he isn't instructing, he is practicing photography and training for marathons.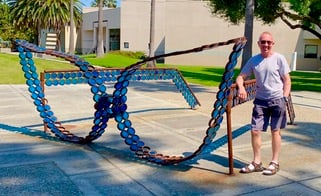 Upcoming Courses
Sign up using the form on this page to be alerted about course-specific dates and times.

Questions? Contact climbhealth@pcc.edu.