Are you looking for a field that requires and rewards organization, accuracy, efficiency and consistency? Do you want a career that plays a vital role in the operations of an office or hospital? Have you considered working in a medical office or hospital, coding and categorizing patient information? Learn how you can acquire the skills and experience. through PCC's Institute for Health Professionals!
The Job
As a medical coding professional, you will:
Play an essential role in the medical billing process

Check patient files to verify procedures performed on a patient

Assign codes to the medical services provided, for insurance claims

Have a certification widely recognized by employers and government agencies, including the Department of Labor
Employment in medical records jobs is booming, with the Bureau of Labor and Statistics anticipating steady employment. Additionally, coding jobs paid between $35,000- $62,000, with an average salary of $20 an hour.
Become a Certified Professional Coder through the American Academy of Professional Coders (AAPC) national exam, and earn competitive wages.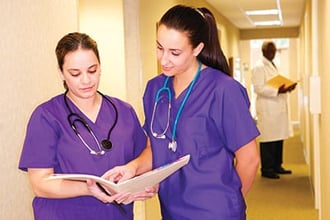 What to Expect
The Institute for Health Professionals' AAPC Medical Coding program can be completed in 2-3 terms, with 4 real-time online courses that maximize your interaction with the instructor and minimize time spent on a commute.

You will gain practical experience by using case studies for medical coding assignments. Course assignment work will also be geared towards preparing you for national certification, with mock exams based on the Certified Professional Coder (CPC) exam.

Prerequisites: 2 courses that can be completed online during Spring and Fall terms.
Medical Terminology: A self-study model, with instructor feedback and coaching during office hours.
Anatomy & Physiology for Coders
Students must complete the prerequisite courses in order to take Medical Coding A & B.
AAPC Medical Coding Courses:
AAPC Medical Coding A
AAPC Medical Coding B
After successful completion of this training, you will be prepared to sit for the American Academy of Professionals Coders (AAPC) national exam.
After completing the program, you will be able to:
Understand medical terminology and analyze medical reports for coding and billing
Identify body systems, including the nervous, musculoskeletal, circulatory, lymphatic, and gastrointestinal systems
Employ the latest guidelines, procedures, and information for work in an office medical coding environment
Apply current guidelines for E&M, surgical, diagnostic and Level II Healthcare Common Procedure Coding System (HCPCS)
Provide accurate coding for anesthesia, surgery, radiology, and pathology
Code for diagnoses, procedures, and services performed by physicians and non-physician providers
Utilize ICD-9, ICD-10 codes for practitioner patient notes and health care
Who should enroll in the AAPC Medical Coding Program?
The AAPC Medical Coding program is for individuals who wish to become a Certified Professional Coder through the American Academy of Professional Coders and work in a medical office or hospital environment.

Individuals with medical coding experience who want to sit for the national AAPC certification exam are encouraged to take Medical Coding B.


The Investment
Training can be completed in 2-3 terms and consists of 4 online, instructor-facilitated courses.

Tuition:

Medical Terminology: 8 week course, $249 (excluding book)
Anatomy & Physiology for Coders: 8 week course, $249 (excluding book)
AAPC Coding Cohort, including Coding A & Coding B - $3,190.00 excluding books
Meet Your Lead Instructor
Jan Gollihur-Davidson has 27 years of healthcare experience, 12 of which have been in medical coding. For the last 8 years, Jan has held the position of Education and Coding Auditor at a large hospital in Portland. She has written and taught courses for both continuing education (CEU) and health information management (HIM) programs, and also wrote this course.

How to Enroll
Complete the form on the right to receive more detailed registration instructions.

To Register:
View the current schedule of classes and write down your CRN .

Visit Non-Credit Registration and create a new account. Returning PCC Students can skip this step.

Register for your course online using MyPCC.


Frequently Asked Questions
Can I use federal financial aid?
No, federal financial aid does not apply to non-credit courses. Students are required to pay in full once they are notified of acceptance into the program.

Is there a clinical or internship available?
No. Unfortunately, we do not offer clinicals or internships at this time.

How long does the AAPC Medical Coding course take?
This course can be completed in two terms. Students must complete Anatomy & Physiology (A&P) for Coders and a Medical Terminology class before moving on to Medical Coding A & B. Courses are delivered in an online, real-time lecture model for instructor-student interaction, along with office hours for additional support.

Will this prepare me for a national certification exam?
Yes. This course will give you the skills and knowledge you need to gain national certification as a Certified Professional Coder (CPC) through the American Association of Professional Coders (AAPC).

Have a more specific question?
For more information, please contact Bem Hanamoto at climbhealth@pcc.edu or 971-722-6627.