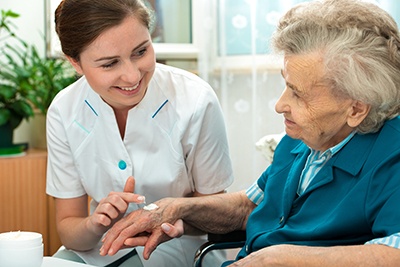 Note: We are not currently accepting applications to our CNA2 program. Use the "Learn More" form to be notified when courses will resume.

Are you a CNA 1 who's looking to boost your earning power and open up new avenues for career advancement?

Pursue new opportunities and increase your earning potential by becoming a CNA 2. For a list of upcoming courses, click here.

Oregon is one of only two states that have dual levels of Certified Nursing Assistant: CNA 1 and CNA 2. Although CNA 1s can work in a variety of health care environments, hospitals and other acute care environments generally only hire CNA 2s.

During the Institute for Health Professionals' CNA 2 training, you will gain acute care experience as part of a clinical rotation within a hospital environment.
What To Expect
The Institute for Health Professionals' Certified Nursing Assistant 2 training program is approved by the Oregon State Board of Nursing. Students must have a current Oregon CNA 1 license to apply to this program.
Part I: 60 hour lecture and lab skills demonstration

Build on CNA 1 training to acquire new skills, ranging from blood glucose testing to cast removal.

Learn advanced information on body systems and disease processes.

Understand how to document patient behavior in a hospital environment.

Part II: 28 hour clinical practicum

After successfully completing the lecture and lab portions, you will attend a clinical portion at the Providence Portland Medical Center.

Put your new skills to work with real patients in a hospital environment.

PCC will place students in a clinical rotation; you will not need to arrange your own clinical internship.
Once students successfully complete the program, their CNA 1 license will be upgraded to a CNA 2 license in the Oregon State Board of Nursing CNA registry. Unlike with the CNA 1 program, no additional state testing is required.

Upon successful completion of the Certified Nursing Assistant Training Program 2, students will:
Have their CNA 1 license upgraded to a CNA 2 license in the Oregon State Board of Nursing registry.

Learn about the difference between CNA 1s and CNA 2s, and discover which skills only CNA 2s can perform and which unique responsibilities CNA 2s shoulder.

Gain valuable experience working in an acute care hospital environment, where they will be exposed to the working practices of successful CNA 2s and the unique challenges associated with working in hospitals.

Learn an array of interesting and challenging new CNA 2 skills, broadening their knowledge base and strengthening their abilities.

Dive into greater details concerning body systems, disease processes, and more, increasing their understanding of the patient population.

Increase their earning power and their advancement opportunities by opening up new avenues for employment


Bonus Features
PCC's Nursing Assistant Training program combines in-class lecture and lab hours with a clinical practicum at Providence Portland Medical Center's campus in Northeast Portland. Students will receive 75 hours of real-world experience in a hospital environment, interacting with patients and health care workers and learning about life in the hospital industry from the front lines.

Additionally, lectures will include a wide variety of learning experiences, including videos, quizzes, and role-playing exercises that will offer students the chance to explore a variety of CNA 2 scenarios.
Who is this program for?
This course is designed for current CNA 1s who are interested in learning new skills and advancing their health care career, as well as those who specifically want to be able to work in a hospital environment.

In order to take the CNA 2 program students must have a current, valid, unencumbered CNA 1 license in the state of Oregon. Students must be prepared to do the required reading, practicing, and studying to succeed. Effective time-management skills and study habits are important, but students do not have to have a GED or high school diploma.

Additionally, we recommend the class only to students who have a high level of proficiency in reading, writing and speaking English.
What Our Students Say
"As of April of this last year I became an employee at Doernbecher Children's Hospital. I feel like the programs that I had went through prepared me to be able to do as good of a job as I do today on my floor. I have seen so many different and cool (as well as sad) things that further my education in the medical field each and every day. You never stop learning that's for sure. I just wanted to thank you guys for the amazing jobs that you do by educating us and preparing us for the real deal. Keep doing a great job!" - J.L.
The Investment
Time:
60 hour lecture and lab skills demonstration
28 hour clinical practicum
Tuition:
$1095, including lecture, lab and clinical tuition
Other costs include:
Mandatory background check and drug screen, $75
Textbook, roughly $15
2-stage Tuberculosis test
An appropriate uniform, stethoscope and gait belt
CPR certification, $75 if taken at PCC CLIMB
Since the clinical rotation for the CNA 2 program takes place at a hospital, there are also a series of required immunizations, including varicella,
Tetanus-diphtheria (Tdap), and Measles/Mumps/Rubella (MMR). You can read more about the associated costs in the CNA 2 brochure.
Costs are addressed in more detail during orientation, which is required for all students before the first day of class.
PCC offers installment payment plans, which may allow you to make smaller biweekly or monthly payment. To find out more, visit the installment plan webpage.


How to Enroll
There is an application process. Complete the form on the right for application instructions.
Frequently Asked Questions
Do I have to apply to this program?
Yes, applications are required in order to take the CNA 2 program. You can find the application online. Once you submit the application PCC staff will process it, register you, and notify you with a confirmation email that will include more information.

Can I sign up for this program while I am still taking the CNA 1 program?
No, not yet. You must have an Oregon CNA 1 license in order to apply to the program. Do not apply until after you have successfully completed the CNA 1 program and passed the state board exam.

Can I apply to the program if I have completed a CNA 1 training program, but I haven't taken the state certification exam yet?
No, not yet. You must have an Oregon CNA 1 license to apply to the program. If we cannot verify your Oregon State Board of Nursing CNA 1 license, your application will not be accepted. Please do not apply to the CNA 2 program until you have successfully passed the CNA 1 exam, and you are visible on the Oregon State Board of Nursing CNA registry.

I know that I need a CNA 1 license in order to apply to the CNA 2 program, but are there any other program requirements?
Yes. All students are required to attend an orientation before the first day of class. You can find the full schedule of orientations in the CNA 2 brochure. You will also need to undergo a background check and drug screen, provide proof of your CPR certification, provide a copy of a recent tuberculosis test, and show proof of certain immunizations. You will learn more about the TB, CPR, and immunization requirements, as well as instructions for your drug test and background check, at orientation.

Do I need to take an OSBN state certification exam after I complete the training?
No, there is not a state board certification exam for CNA 2. After program completion, PCC will submit the necessary paperwork to the OSBN. They will add your CNA 2 certification to their online license verification system approximately 2 weeks from your date of completion. You will not receive a new license showing your CNA 2 status.

Does PCC offer financial aid?
The Nursing Assistant Training Program is a noncredit class, which means it is not eligible for financial aid. However, PCC does offer installment payment plans.

How much can I expect to make as a CNA 2?
Entry-level CNA 2s can expect to make $11 to $20 per hour, depending upon prior work experience, employer, and clinical experience. You can find out more about current wages in your area by going to the Oregon Employment Division website.

I have other questions or would like more info. Who can I talk to?
Contact the CNA program for more information at: cnatrain@pcc.edu.

You can also attend an orientation given by Linda Schneider, the program director and an instructor herself. They are free and open to the public, so there is no need to register for one. You can view the full schedule in the CNA 2 brochure.