Increase Your Business with a Marketing Plan
ting
Do you want more customers?


Need a marketing plan, but not sure where to begin?
Marketing these days is far from simple. Social media, websites, collateral, networking events, newspapers and coupons...where do you start? And where is the best place to put your effort and money? Find answers to these questions during this one day, intensive marketing course.
In the simplest terms, marketing is how we let people know we have something they might want. The key is to find and engage the people who are most likely to buy from you.
We'll help you discover the best marketing opportunities for your business, and you'll leave with a marketing plan to move forward on.
What to Expect
In this 8-hour, 1 day, boot camp style class, you will:
Create a Customer Persona to help identify your perfect customers
Develop a Marketing Plan and outline effective campaigns to attract more customers
Explore using networking and social media to build a strong referral team
Meet the Instructor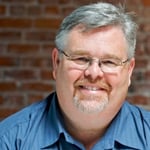 Dr. Sean Harry has taught at CLIMB for 4 years, bringing a background that has a little splash of everything in it, from ministry and non-profit, to education, entrepreneurship and career coaching. With a Master's degree in business and two startups under his belt, he is well-equipped to help others turn their dreams for a company into reality. During his off hours he enjoys biking with his 8-year-old granddaughter, hiking in the Gorge, reading, and taking naps.
---
What Our Clients Say
"I took the marketing class to help enhance the launch of my new massage business and I am glad I did! I now have a business strategy and am prepared more now than ever to start campaigns which will bring in new groups of people. His class helped me notice things from the eyes of my clients lives and not just the product I wanted to give them. I look forward to taking more classes and am grateful for this amazing resource." -- Recent Marketing, Marketing, Marketing participant

Frequently Asked Questions
I'm very busy. Will this program be worth my time?
Our clients say our programs saved them years of frustration and struggle while growing their businesses. Our programs are structured so you'll only have to devote a few hours every month to attend sessions and meet with your advisor.
Where and when are classes held?
Class times and locations vary. Check class information and course schedule by visiting the BizCenter website, selecting "Business Basics," and register for a course date, time, and location that works for you.
Are there any requirements for the program?
This course is best-suited for new business owners just launching, within their first year, or in need of a refresher on business basics.
Will I earn college credit or a degree for completing this course?
No, you will not receive college credit.
What is the PCC Small Business Development Center?
The Oregon Small Business Development Center at Portland Community College has helped thousands of businesses over the past 30 years. We combine one-on-one business advising with programs taught by business experts, giving our clients the resources they need to grow their businesses. We've celebrated many successes with our clients. We'd love to celebrate your success.
Where can I find more information or classes?
Find resources and more classes to help you achieve your business goals on our website.
Have another question?
Contact Sean Harry at sean.harry@pcc.edu, or call 971-722-5080.