Do you want more customers?


Need a marketing plan, but not sure where to begin?
Marketing these days is far from simple. Social media, websites, collateral, networking events, newspapers and coupons...where do you start? And where is the best place to put your effort and money? Find answers to these questions during this one day, intensive marketing course.
In the simplest terms, marketing is how we let people know we have something they might want. The key is to find and engage the people who are most likely to buy from you.
We'll help you discover the best marketing opportunities for your business, and you'll leave with a marketing plan to move forward on.
What to Expect
In this 8-hour, 1 day, boot camp style class, you will:
Create a Customer Persona to help identify your perfect customers
Develop a Marketing Plan and outline effective campaigns to attract more customers
Explore using networking and social media to build a strong referral team
Meet the Instructor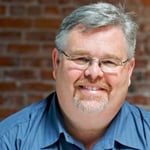 Dr. Sean Harry has taught at CLIMB for 4 years, bringing a background that has a little splash of everything in it, from ministry and non-profit, to education, entrepreneurship and career coaching. With a Master's degree in business and two startups under his belt, he is well-equipped to help others turn their dreams for a company into reality. During his off hours he enjoys biking with his 8-year-old granddaughter, hiking in the Gorge, reading, and taking naps.