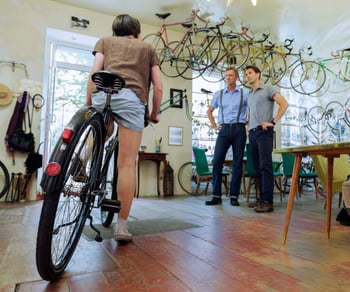 Turning your passion into a career may seem like a great way to ensure you love what you do every day, but sometimes your vision and reality do not align. It takes more than passion to know how to capitalize on the things you enjoy and create a profitable business. Recognizing that starting your own business will be a challenge is the first step.
Do Your Research
Before making the leap into starting your business, research your market thoroughly. Is there an angle you could take that brings something new to your target audience and gives your business an edge for potential earnings?
Instead of breaking into an established market and having to share customers with your competitor, a different approach may mean you can benefit from their established client base by offering a product or service that compliments what is already being sold. If you are a cycling enthusiast and want to open your own shop but your town already has one, what can you offer that is different? Maybe a selection of bikes that is not available down the street or tune up services. Whatever it is that you are pursuing, make sure you have something new or unique to contribute to the market.
Know Your Limitations
Every dream will not turn into a thriving, profitable business. This is especially true if you have no knowledge of how a business operates. Everyone has their strengths but with that comes weaknesses. There are many critical components to operating a successful business and knowing when you must bring in outside help to ensure things run smoothly is incredibly important.
If you have great social skills and marketing ideas to get new customers in the door and retain your existing ones but do not know your way around accounting, you could be making critical mistakes. Making errors on tax information or failing to accurately track your business's income and spending could cause major problems with the IRS while giving you a false picture of how well you are doing financially. Know when you can learn to do something yourself and when it is necessary for you to find help.
Involve Others Who Are Passionate
Enlisting the help of others who have similar interests will help you get a better understanding of whether or not a market exists for your idea. Sometimes we fail to see the flaws in our ideas because we are too focused on making the idea work rather than identifying what is and isn't practical. Once you have established your business, invest in the right people. Surrounding yourself with people who are passionate about your products or services will allow you to focus on the business instead of worrying if your employees are engaged in their job and how your customers will perceive their lack of enthusiasm.
Find New Hobbies
When you make the decision to take one of your favorite hobbies and turn it into a business, find other things you enjoy so that you do not burn yourself on that activity. Did you open a scuba shop? You might still love diving but maybe you will enjoy water skiing or a less strenuous outdoor activity like beach combing. Whatever it is you have gravitated toward for your business, take time away to allow your mind separation from work. You will be more refreshed and may develop a new perspective that will benefit the way you operate your business.
The biggest fear many people have when they turn their passion into a business is that they will start hating their passion. Starting a passion-based business can be incredibly rewarding if you start with eyes wide open and take preventative measures to protect your passion. By doing your research, knowing your limitations, finding other passionate people, and exploring new hobbies, you can actually make a living doing what you love.