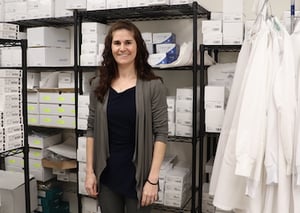 Meet Your Instructor: Kimberly Phillips, BA, MOT, CCRP
Kimberly Phillips is an instructor in the Foundations of Clinical Research program. She teaches courses on protocol overview, sample protocols, project management, data analysis/publication, and safety monitoring.
She has worked for the Providence Cancer Institute for 3 years as a clinical research coordinator for melanoma clinical trials and also worked on various research projects while completing her masters in occupational therapy.
Prior to graduate school, she taught English overseas in Istanbul, Turkey for several years and enjoys opportunities to continue to teach and train. She has a passion for answering complex research questions through careful research design, data capture planning and data analysis. She is currently pursuing a Graduate Certificate in Biostatistics from Oregon Health Sciences University to supplement her research background with a stronger skillset in data analysis. She is also a Certified Clinical Research Professional (CCRP) through the Society of Clinical Research Associates.