George Knox is an instructor for PCC CLIMB's Professional Development and Training Center who specializes in writing. He teaches such courses as Business Writing, Business Grammar, Writing On-line Content, and Note Taking & Minutes.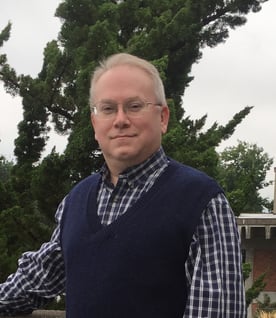 What is your industry / real world experience? Contract technical writer and web developer (Also teach writing for local colleges).

Tell us about a time that you were most proud in your role as an instructor.
Once I was teaching an all-day Business Grammar course, and everything went wrong with the media tools. The internet was down. The projector broke. Even the old overhead projector was missing a bulb. (This was in the old days when there was no technical support at Central.) So I told the class we could reschedule or we could go "old school." They could ask me questions, and I'd answer them. We'd write out examples on the white board. I'd customize topics to the students as we went along. They took me up on it. It was probably the most difficult teaching I've done in a classroom. But it worked. We covered what they needed and they learned what they wanted. At the end of the day, one student came up to me and said, "You're kind of a Kung Fu Master of Grammar and Punctuation." It's the best thing any student has ever said to me.

What kind of transformation do you see in your students during a course?
Basically, I want every student to come away with something that will make them a better writer. Perhaps it's finally getting a tricky grammar rule. Perhaps it's learning about a new tool to help them write. Perhaps it's discovering a great proofreading trick. I don't get to work with my CLIMB students very long, but the feedback I get in class and in evaluations shows that many of them find something useful.

What is your favorite ah-ha moment you see during a course?
Commas. Almost everyone does them wrong. After we cover commas in class, I usually see a lot of heads nodding. Quite a few students have said, "Now I get it."

What do you think students struggle the most with in this course or field?
Writing is difficult for everyone. (Tolstoy never stopped making revisions to "War and Peace.") In our heads, we know what we want to say, but putting it on paper, or on the screen, in a way that the reader can understand and respond to is very hard to do. Like most things in life, it takes practice to learn to write well.


If you could give one piece of advice to all your future students, what would it be?
You can be a better writer. Just do what I tell you to do.

What do you think your students value most about CLIMB?
We offer short-term, customized training in a mode that works for them.

Why do you teach?
I love to help people write better. I also love grammar and punctuation. (Weird, huh?)

What do you do for fun?
Blog (Currently four different blogs covering various subjects).