Christopher Dennis is a professional development instructor at PCC CLIMB. His classes include Project Management, Process Mapping, Change Management and custom topics.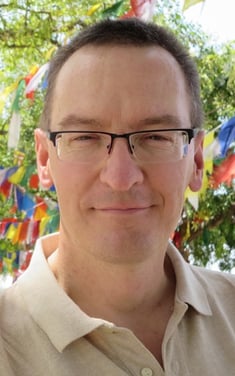 How long have you been teaching at CLIMB?
My first gig for CLIMB (before it had that name) was in 1997.

What is your industry / real world experience?
I worked in a nanotechnology lab at MIT, taught in Microelectronics Technology at PCC, then became a full time consultant.

What kind of transformation do you see in your students during a course?
Most of the transformations I take part in fall into three primary kinds: 1) Participants who come in with a smattering of professional experiences and tools, and also have big gaps. They go through a transformation of revelation and cohesion. Their pieces fit together in a sum that is greater than its parts. 2) Participants who come in with a directive but not an understanding of why the directive is a good idea for them. They go through a transformation of self-discovery and acquisition. They know why they came and leave with a tool set. 3) Participants who come in with deep professional experience. They go through a transformation of revitalization and fresh growth. They realize there is still interesting, valuable skills to acquire, and they've acquired some.

What is your favorite ah-ha moment you see during a course?
In the longer project management courses I run a simulation where it feels to the room as if there are four participants and a sizeable audience. During the analysis they realize that they were not just an audience, but unhelpful members of a larger team. Seconds later they realize "Oh, have that same thing going on in my workplace because I haven't told people what we're up to." Seconds after that they realize "Hey, that's an easy thing to change. I can change that at my workplace."

If you could give one piece of advice to all your future students, what would it be?
Help others find the satisfaction and fun in the work your organization takes on.


What do you think your students value most about CLIMB?
Accessibility, affordability, and focus.

Why do you teach?
I teach because it's exciting, because the human mind is one of the most beautiful, complex, and exasperating things we know about. I teach because I love to learn.

What do you do for fun?
Travel (Thirty-six countries and counting. Forty-nine states…I still need Oklahoma!), martial arts, flamenco guitar, and wild mushroom foraging.