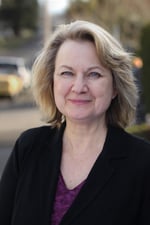 Small business ownership runs in Leslie Hildula's family. Her parents and grandparents were entrepreneurs, so she's been around small business owners all of her life. These days she is busy running the Restaurant and Retail programs for the PCC Small Business Development Center. Click on the links below to review upcoming course dates and locations.
Here is her story. . .
Why do you teach & advise? It's a creative process for me. Working with someone else to create a business that is satisfying on many levels. To watch others become excited about possibilities and then see the satisfaction and pride when they realize their potential. I like being a catalyst for change. Together we're making the world a better work place, one small business at a time.

What is your real world experience with small business? As a consultant I've worked with businesses in four states and ten countries. My very first project was working with Apple dealerships in Latin America and Asia. But my roots in small business started with my family in Oregon. My grandparents and parents were entrepreneurs. I grew up with employees having lunch in the kitchen. I worked trade shows and took trips with my dad to pick up supplies and deliver customer orders.
What is your favorite part about being an instructor/Advisor?
Asking just the right question that sparks the answer my client is seeking. I like facilitating a group conversation that brings people together and draws upon all the expertise in the room.
What kind of transformation do you see in your clients? They grow more confident in what they know and in their ability to meet the challenge ahead. They also become more realistic about the costs involved in realizing their dream and aware of the resources available to them. They learn that they are not alone and that there are people doing similar work and they can help each other.
What skills are needed in order for someone to achieve success in small business Perseverance, willingness to ask for help, to learn new things and apply them, the ability to take calculated risks.
What do you think small business owners struggle the most with in this course? There's usually more to be done than there is time for one person to do it all. They need to prioritize and learn how to utilize the strengths of other people, either as employees, contractors, or helpful friends.
How do you help them with this? When we meet, we talk through their plans, prioritize them and discuss realistic timing and allocation of resources.
If you could give one piece of advice to all your future students, what would it be? Keep learning and take action on what you've learned.
How do you keep yourself knowledgeable and up to date on trends and industry standards in order to deliver the best quality of education? I Read, attend classes with experts, and learn from my clients who are often trend setters.
What do you do for fun? I Shop at my favorite stores, eat out for lunch, canoe on the Columbia River, experiment in my garden with perennial flowers and exotic vegetables, try out new brunch recipes, hike in Forest Park, and see plays in Ashland every year with my family.