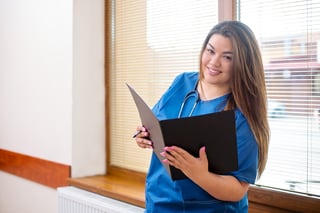 Due to a continuously growing demand for healthcare services, healthcare job opportunities continue to be among the fastest growing in the nation. According to the Bureau of Labor Statistics, out of the 20 fastest growing jobs in the United States, 11 of those positions are in healthcare.
Employees are needed for all levels of positions, from entry-level to high-level administrators. People from unique backgrounds and with a variety of skills and life experiences are vital to ensure all community members receive quality healthcare.
More good news, many of these expanding healthcare careers require two years of education, sometimes even less. At Portland Community College, you have access to a variety of programs that can help you kickstart your healthcare career. These programs offer flexible schedules and evening classes so you can keep your current job while preparing for your next career.
5 Healthcare Careers to Consider
With some training, you can start pursuing an entry-level healthcare career before 2018 has ended. Some careers to consider include:
Sterile processing technicians keep patients safe by ensuring all equipment and tools in operating rooms are clean and free of bacteria or other microbes. This job requires attention to detail and an ability to follow strict protocols.
Pharmacy technicians work in pharmacies, hospitals and other healthcare settings across the country. They do important work, including filling prescriptions according to specific instructions, working with patients to ensure medicines are used correctly and managing the inventory and billing of a pharmacy. This job is great for someone who enjoys working with people, has meticulous attention to detail and is capable of managing complex tasks.
Phlebotomists work directly with patients in hospitals, doctors' offices, labs and other healthcare settings. They are responsible for drawing blood for tests according to a physician's instructions and help patients feel comfortable while ensuring they get the right care for their needs.
Medical coders don't work with patients, but their work is no less important. These professionals play a vital role in ensuring medical records and billing are accurate. They enter data in patient records, help file insurance claims and take part in other tasks that help physicians and hospitals get reimbursed accurately for the care they provide.
Patient access specialists are often the first person that a patient meets and talks to at an office. They set the tone for a patient's experience at a hospital or private practice. In addition to checking patients in, these healthcare professionals help with billing, protecting patient privacy and other administrative tasks that keeps a practice running.
These entry-level positions offer a starting point for a career that can grow quickly. With more education and training, many healthcare positions can quickly lead to promotions or new opportunities to build your career within the healthcare industry.
Explore more entry-level healthcare career options to find which job is right for you—and which program at Portland Community College can get you there.