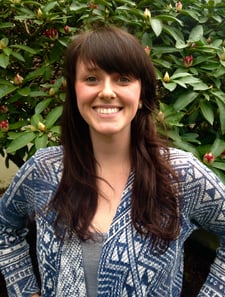 Manda Draper is a nutritionist who graduated from the Masters of Science in Nutrition program at the National College of Natural Medicine (NCNM). Manda is the coordinator for the Food as Medicine Institute. She teaches the FAME series, a 12-week, community based, cooking, and nutrition course. Prior to completing her masters degree, Manda served as a Peace Corps Volunteer in Togo, West Africa. As a Food Security volunteer she created a nutrition and feeding program for mothers with malnourished children. Manda's passion is to encourage the growth and wellness of local communities through cooking and nutrition education. Manda will be hiking the Pacific Crest Trail from April- September while maintaining an entirely whole foods based diet.
Manda teaches in the Functional Nutrition program, specifically Culinary Skills in Term 2.
Why do you teach?
Teaching provides me with moments where I feel an exuberance of common humanity. I don't teach students, I teach with students- this fosters the symbiosis that comes with teaching, learning, and sharing common experiences; everyone is taught, everyone learns. Teaching like-minded individuals about a topic that I am passionate about is the best job anyone can ask for. I want to encourage students to be active rather than passive participants in their passions and their interests.
What is your background?
My passion for nutrition began with the my own healing through nutrition. As an anemic, exhausted, and frequently ill vegetarian for 8 years, a dietary shift completely transformed my life. I am also witness to my father's daily struggles that come with having 3 auto-immune diseases. Because of his illnesses, food is the center of his life, for him the wrong dietary choices can cause serious distress or the contrary be his most effective form of medicine. These experiences propelled my passion for nutrition and food as medicine. From 2011-2013, I served as Peace Corps volunteer in Togo, West Africa. As an Environmental Action and Food Security volunteer, I organized a national food security camp for at-risk youth, led nutrition workshops during a national women's empowerment conference, and created a nutrition and feeding program for mothers with malnourished children. Post Peace Corps, I completed my Masters of Science in Nutrition at the National College of Natural Medicine (NCNM). While completing my masters, I provided nutrition counseling for Parkinson's patients participating in a research project that was examining the effectiveness of the Ketogenic Diet on symptoms. Currently, I am the coordinator for the Food as Medicine Institute at NCNM, where I teach a 12-week cooking and nutrition series to various populations.
What is one misconception you see in this field?
That eating/cooking healthy whole foods is expensive, difficult, and time consuming! It can be the opposite of all of those things with the right knowledge and tools!
If you could give one piece of advice to all your future students, what would it be?
Care passionately about your ideas, opinions, and goals, however, be open to the possibility of being wrong and your goals being transformed/adapted. Don't get caught up on learning everything now, education is the framework, experience is where you will truly discover what your goals and dreams are or may no longer be.
How do you keep yourself knowledgeable and up to date on trends in your field?
Be an active member of the community! Attend food and nutrition events and conferences, look for continuing education opportunities, read, and discuss topics with colleagues, friends, and family.
What do you like to do for fun?
The two things in life that make me feel most alive, are spending time in nature (rock climbing, hiking, backpacking) and teaching cooking and nutrition classes in community settings. It's amazing how two very different things can evoke very similar emotions. My other hobbies include traveling internationally, and sitting for hours in cozy cafe's to write.