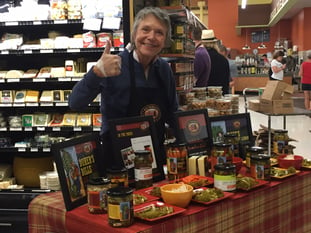 With 22 years as a retail store manager and 17 years in Apparel Product Management at Adidas, Betsy Walton knows her way around a store. About a decade ago she decided to leave all of that behind and strike out on her own in the food production business. For 8 years she was the owner of "Our Favorite Foods LLC" -- a local pickle maker. Today she teaches and advises other food entrepreneurs through the Getting Your Recipe to Market class for the PCC Small Business Development Center.
What is your favorite part about being an instructor/Advisor?
I took the class, Getting Your Recipe to Market in 2008 and enjoyed it tremendously! Now it is my time to give back, and share my knowledge and experience - while I still have it! I love helping others to achieve their goals and I'm having a blast doing it. I get to assist people through the different stages of starting up a food business. I often say, 'been there and done that.' Because I HAVE. I advise based on my experiences, and want them to learn from my mistakes.
What are the biggest challenges your clients face?
Costing their product is the number one challenge! There are so many things that go into it: ingredients, labor, packaging, renting commercial kitchen space OR using co-packer. . . Then you have to include your margins, or profit and come up with a reasonable price.
Then you have to add in distributor costs (which can be up to 25% of the price) and overhead like liability insurance. There are so many things you don't know when you are just starting out. What do you need to have on the label? Why do you need a UPC code? It's a whole different world.
If you could give one piece of advice to all your future students, what would it be?
Take it one step at a time -- baby steps forward and expect the unexpected!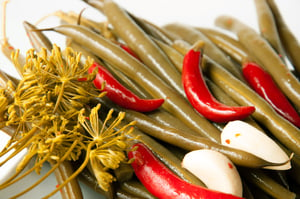 I also advise people to 'inspect what you expect.' For example, the first time I made pickled beans I got them delivered without inspecting them. I didn't specify straight beans 5.5 inches long, so I got funny shaped beans of all different sizes. I ended up donating over 900 lbs of green beens to the Oregon Food Bank. Then, I once ordered asparagus and forgot to ask them to cut it to length. It was too long to fit in the jars! From that point on I went over to the farm or warehouse to inspect the product and make sure it was what I needed BEFORE they delivered it.
What do you do for fun?
I enjoy spending time with my hon-bun (husband) Duke, and dear friends. We play golf, attend Oregon Duck football games, and go scuba diving. In fact, I spent 3 weeks in Asia this May diving off the coast of Indonesia. I'm ready to go back!
I'm also a volunteer as a Master Food Preserver for Home Food Preservation through the OSU Extension Service.
Sodoku is my guilty pleasure.