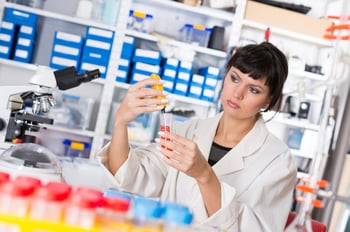 Thank you for reading our newest series, in which a day in the life of a number of different healthcare professions will is explored. Today's post will walk through a day in the life of a Pharmacy Technician to help you decide if this career is the right one for you.
What Is a Pharmacy Technician?
A pharmacy technician works directly with customers in a fast-paced and challenging environment. They are paraprofessionals and work directly under the supervision of a pharmacist in various settings/roles including: hospitals, retail or community pharmacies, compounding or other specialty pharmacy, nuclear pharmacy, long-term care facilities, and pharmaceutical companies. Pharmacy technicians are usually the first point of contact with patients, healthcare providers, and caregivers, representing the "face" of the pharmacy. They help pharmacists measure, count, mix, label, and dispense medication; triage customer service needs; and manage third-party insurance reimbursements. A pharmacy tech takes on these responsibilities so the pharmacists can focus on assisting patients and healthcare providers with the best discretion and judgment possible to ensure patient safety and satisfaction. Though a pharmacy technician is a valuable resource for the customers and patients, he or she does not counsel the patients, which requires professional judgment that can only be offered by the pharmacist.
This is a great career choice for high school graduates, those interested in becoming a pharmacist, part-time workers, and retirees. A role as a pharmacy technician requires an aptitude for excellent customer service, mathematical skills, and attention to detail, along with a desire to help others.
A Day in the Life of a Pharmacy Technician
The job of a pharmacy technician varies from day-to-day and from workplace-to-workplace, therefore, this is a general overview of what a typical day may look like.
The Role You Play
Pharmacy technicians are a valuable asset in the pharmacy. Attention to detail is vital when assisting the pharmacist in filling and dispensing medications. Pharmacy technicians require many skills and competencies and are responsible for the following tasks:
Excellent customer service
Triaging prescriptions, phone calls, refill requests, and customer requests

Multitasking

Properly interpreting prescription orders

Creating/maintaining patient profiles

Answering the phone, triaging the calls, and working with healthcare providers

Working with insurance companies

Data entry and reconciliation

Utilizing computer skills/knowledge of accounting software

Arranging pharmacist counseling and intervention

Accurately counting, mixing, measuring, and labeling medications for dispensing to patients

Ordering, stocking, delivering, and shipping medications

Maintaining computer and system databases

Using critical thinking to quickly and accurately troubleshoot with insurance companies and patients

Processing payments

Being able to stand for most of the workday

Repetitive tasks that require bending, lifting, stretching, and talking
Types of Hours You'll Work
The work schedule of a pharmacy technician varies widely. There are full-time and part-time opportunities available. Some of the schedules worked include the following:
Night Shift: Technicians working in a 24-hour setting such as a hospital, inpatient pharmacy, or 24-hour drugstore may be expected to work the night shift, most likely on a rotating schedule.

Day/Evening Shift: Technicians working in a grocery store or retail pharmacy may work a schedule sometime between 7am-11pm.

Weekends/Holidays: Working on the weekends and on holidays is often required of pharmacy technicians. People — the basis of the pharmacy — get sick and need medication at all times of the day, therefore the services of the pharmacy are required at all times.
The National Average Pay
The national average annual salary for pharmacy technicians is $30,450. As of May 2014, the average annual salary for a pharmacy technician in Oregon was $36,270. Salaries will vary depending on certification status, practice location, setting, and years of experience. Many positions also offer health insurance and paid time-off.
How to Become a Pharmacy Technician
If you are passionate about helping others, enjoy a fast-paced work environment, are customer-service oriented, and can naturally multitask with ease, then a career as a pharmacy technician may be the perfect choice for you! The steps to becoming a pharmacy technician usually entail enrolling in a post-secondary education program to obtain an Associate's Degree or entering a vocational pharmacy technician program, and/or gaining related on-the-job experience. Most states regulate pharmacy technicians, including Oregon, which also requires passing the Pharmacy Technician Certification Board's (PTCB) Exam prior to practicing in a pharmacy setting. In the state of Oregon, one hour of Oregon pharmacy law is required each year.
If a day in the life of a pharmacy technician sounds like an exciting career for you, consider entering a comprehensive program that will prepare you for a rewarding job in healthcare. The field is growing fast — almost twice the average for all occupations — and offers excellent educational and growth opportunities.