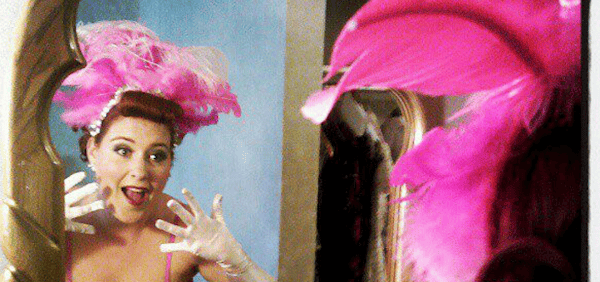 Courtney Freed runs a production company in the Portland area and is a graduate of the PCC SBDC Solo Business Builders program. She is launching a production company that helps solo performers take their show on the road. Her current project is a one-woman show called Mercury Rising.
What is Mercury Rising? It's a Freddie Mercury jazz tribute show and it celebrates his music. It's a 1930s cabaret event, and it's super fun! We're doing a tour in the fall of 2018, going to Chicago in October and hopefully Los Angeles in the winter and we'll hopefully do another run of it here in Portland.
What brought you to the PCC SBDC? As a creative person, a performer, it was challenging to learn how to legitimize creative projects as a small business. I wanted to learn some tools to be able to run my own business as a sole proprietor and be smart about my business decisions, budgeting, hiring people and all of that stuff. I wanted to continue to make a living as a performer, as well as have a sellable business when it comes to that. I needed someone who could help me understand all the things that go into running a business, you know, contracts, and marketing, and things that I was doing on a small scale for myself. I figured that taking a class in which you're having discussions with people who are running similar businesses, you can learn much more. I was able to apply many of the things I've learned to the business and I think that it'll help me launch it more successfully.
What program did you participate in at the PCC Small Business Development Center? I took the solo business builders class with Jackie and it was awesome. It was ten weeks of learning a lot about business and being a "solopreneur" as she calls it. I learned about a variety of tools including website building, email marketing, contracts, etc. There's a wealth of knowledge. Plus you get the book that she has written. I learned there's many ways to streamline and identify exactly what your value is and the value of your business.
I run and operate a live entertainment production company specializing in one and two-person tribute shows as well as curated musical concerts. If someone wants to hire me for a fundraiser or live events, I can curate a project for them. I was already doing that to some degree with my current production company, but that's pretty much just me. Now I can name my offerings, my packages, my pricing all so much better. My website's going to be cleaner and clearer and my branding will be great! I'll have a lot more under my belt than I did before the changes I've made in my business and taking the class with Jackie at the SBDC. The solo class has been to be more specific about my goals as a business owner. Being able to track the goals in a long-term way has been really beneficial. On top of that is having the coaching to build it along the way. If I have questions or if I don't understand something or if I need feedback I can continue to reach out and receive that!
Do you recommend the class to other solopreneurs? 100%! Do it! It's worth the investment, especially for people who have amazing creative ideas. We need that focus to hone and to use those business tools to build on our amazing creative ideas. In the future there will be more people running their own businesses because jobs are changing. It's an important skill to know how to run your own business, and it's fulfilling. Small business coaching, one-on-one coaching with Jackie, has been very helpful. She's such a good coach and positive and encouraging. She has good feedback and ideas, and she knows many people. The biggest takeaway for me was learning how to talk about my business as a business owner, versus a performer.
What's your Big Idea? Ultimately the plan is to have a production company that'll be like the mother ship of creative projects. If someone else has a one-person show, then I would be act as producer and help that person successfully take their show on the road. They could focus on the show while I cover the backend logistics and business needs.
Here is the full interview with Courtney--