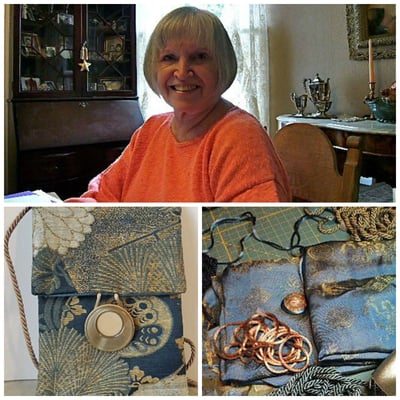 The PCC Small Business Development Center is proud of the great work all of their clients are accomplishing in their businesses. Our Business Profile feature series highlights businesses at all stages of development and success.
Business: Recherche
Owner: Pamela R. Burkland
Start Date: 2001
Website: recherche.us.com
Tell us about your business.
Wearable art, limited edition, hand-made, shoulder bags created from vintage silk Japanese Obi sashes and vintage to antique buttons.
What inspired you to start your business?
A quilter friend's gift of six vintage silk Obi sashes in 2005 transformed Recherche from making potpourri and lingerie bags out of Victorian baby dresses, into the wearable arts arena with the birth of the Obi Bag. The mystique of the Japanese Obi in all its permutations was irresistible, as though there was no choice but to follow this new path, and so it has blossomed.
Before coming to the SBDC, what were you struggling with in your business?
I could not keep up with demand; pricing has been too low for the quality of effort and materials; needed to get a grip on controlling costs and accurately costing labor and materials; no social media exposure for Recherche; needing to capitalize on my niche.
What types of services did you receive and/or in which programs did you participate?
The Solopreneur program and ongoing counseling resources.
How did the services or programs help you overcome your challenges?
1. Outsourcing hand-sewing for one product line to a woman who is beginning to produce the quality I need at a per piece price I can afford.
2. New Excel spreadsheet created by Regina Gilbert allows me to accurately cost out materials and labor per bag type.
3. Started re-writing and uploading new text to my website (more work to do here).
4. Reduced costs with a new cording supplier.
5. Increased all per bag prices but more work to do here.
6. Identified a professional photographer for future product shoots if I can afford it.
7. Eliminated one product line.
8. Consolidation plan for Pan Asian product line to focus only on Obi sash fabric, improving yield per Obi, higher price per bag, and phasing out Chinese brocade and Vietnamese silks where supply issues have become untenable.
What have you done differently in your business since working with the SBDC?
1. Increased prices.
2. Consolidated product lines.
3. Outsourced some hand-sewing and plan to do more.
4. Defined labor and material costs before pricing each bag
How is your business doing now?
I feel like I have turned a psychological corner and defined my niche more realistically. However, my "prestige" retail store clients are cautious about price increases and I am still not able to keep pace with demand. It will take a while to turn this around but I believe I am on my way.
What would you say to other small business owners thinking of working with the SBDC?
I already have encouraged two other women to connect with SBDC. I would say to other small business owners that the tools offered by the SBDC help you identify and reach out to the resources you need to grow your business rather than expending personal time and energy shot-gunning for solutions you may or may not be able to trust. Where time and money are concerned, a small business cannot afford waste on any level. Keeping an open mind is vital because solutions and innovations often unfold and become applicable by the creative synthesis of diverse inputs.