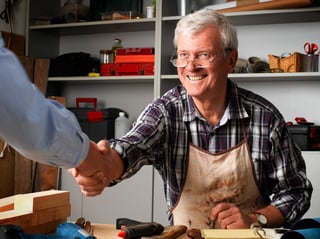 National Mom and Pop Business Owner's Day is on March 29th. In honor of day, today's post will tell you how "mom and pop" shops can out compete the big brands.
Community Connectivity — Citizens
No matter how altruistic or charitable a big brand may be, they can never really participate in community the way that a small business can. After all, big brands aren't tied to any one location, and the people in charge of them, even on a local level, need to concern themselves with multiple, regional locations and issues. Local businesses not only depend on the community to thrive, but they're capable of giving back in many more personal and meaningful ways. Every action that a local business takes within the community not only garners brand trust and a positive brand image, it also builds community pride.
Community Connectivity — Partnering Up
While trying to compete with the big brands can seem like a daunting task, local businesses have an opportunity that those brands don't have on a local level—partnership. Business partnerships—even ones created between local rivals—offer win-win opportunities that help level the playing field. Whether it's buying into a trade show or improving buying power for basic inventory at better prices, local alliances can offer some compelling benefits. Plus, it further solidifies the community identity as one of healthy competition, striving to help boost the economy overall.
Sterling Customer Service
Aside from community, this is the area that is most imperative for mom and pop small businesses because here is where your business can win and where big brands lose. At a certain point, big brands with big stores lose a key ingredient to good service—personal and intimate service. They're too big for every question to be heard, every suggestion considered, every phone call answered, and every client pampered. While big brands do care about customer loyalty, at scale, it becomes a numbers game; they can afford to lose a person here or there, and they can afford to assume that those customers will keep returning even when they haven't been pampered. With small, local businesses, on the other hand, customers will recognize the genuine efforts to ensure satisfaction. Remember, most customers are willing to pay more for the best experience and, of course, the best quality.


Keeping a Close Eye on Quality
As with customer service, quality becomes a numbers game for big brands. Small businesses have the time and limitations that allow them to pay greater attention to their products and services. This is especially true for anything you can offer that is niche or unique, which will have a much more personalized experience and better selection from a small business, while big brands are more likely to have an extremely limited selection that's less curated, and possibly of lesser quality. By paying close attention to quality and unique offerings, small businesses can establish the kind of credibility that customers will actively seek out.
Psychographic and Ethnic Representation
Big brands consider universality to be an advantage, and to a point, for them it is. However, as a small, local business, mom and pop shops can engender a personality that best suits the character of their surrounding community and target customer base. This is important on more than just an engagement level—a local store in Portland, OR, isn't (and likely shouldn't be) similar to St. Louis, MO, or the Bronx, NY. Small businesses can also avoid the generic in favor of matching ideals and identity. Walking into a mom and pop shop can feel like walking into a friend's home: amiable, attentive, and exactly what they're looking for.
If you're a shopper, show your local businesses how much they matter to you on National Mom and Pop Business Owner's Day on March 29th. If you're a business owner, take advantage of the day and connect in the ways that matter most—with the personality and service that the big box brands can't begin to offer.